Home
»
Artwork 2021
» Time Corridor
Total images in all categories: 361
Total number of hits on all images: 1,290,864
Time Corridor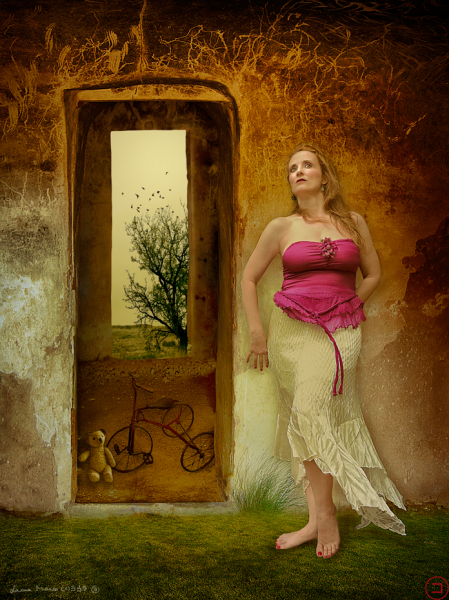 Image information
Description
The wheels moved through the mixture of ground and pebbles, crazy and blissful, blissful as the thought of a child. Self-governing and cheerful, she moved on wheels that although they were small and only covered short distances, for the innocence of a child it meant marching towards freedom itself, breaking the limits, feeling the air on her face and the power to guide the direction wherever she wanted .
Sometimes it was painful to keep so firm that iron of the handlebar, so much responsibility in a bar, the going and becoming, the do and the undoing of life.
That tricycle was not lost, perhaps materially it has been lost years ago, but not inside her, in that case full of memories that we always carry within us, so full, so heavy and so light at the same time. What a paradox! Is there something so light that it offers so much and that it weights so little? Thought.
The woman remained still for a moment, remembering, abstracted beside the door, her eyes did not look at anything in particular, nor at what was in front of her because she was already walking through that time corridor, through those doors that move us and guide us in our experiences, that take us from a door to another with just our thinking.
And there she was... riding that tricycle, with the soft rattle of the road and the relief of not having so much responsibility, just the duty of a child, growing up and being happy ... which most of us then left behind ... and little by little the cadence was faster, the small feet turned and turned, faster and faster and there was only one concern ... that it didn't lack a way to go, or happiness to feel.
How many times do we go back? If the rush of day to day allows us, we should walk that corridor of time, where everything was expected and desired, with a meaning of life.
She felt the soft grass at her feet, everything warm, no weariness, just the life energy of a child.
A happy one.
Date
Sunday, 31 January 2021
Filesize
484.73 KB (449 x 600 px)
File size of the original image
875.70 KB (696 x 930 px)
Share this image in Forums (BBcode)
Include image :
Link image :
Send to Friend
Please login first...
Total images in all categories: 361
Total number of hits on all images: 1,290,864
Home
»
Artwork 2021
» Time Corridor
WELCOME to my Facebook Page, hope you'll enjoy and participate! thank you!