Artworks
Home
»
Artwork 2014
» Bound To Earth
Total images in all categories: 345
Total number of hits on all images: 900,493
Bound To Earth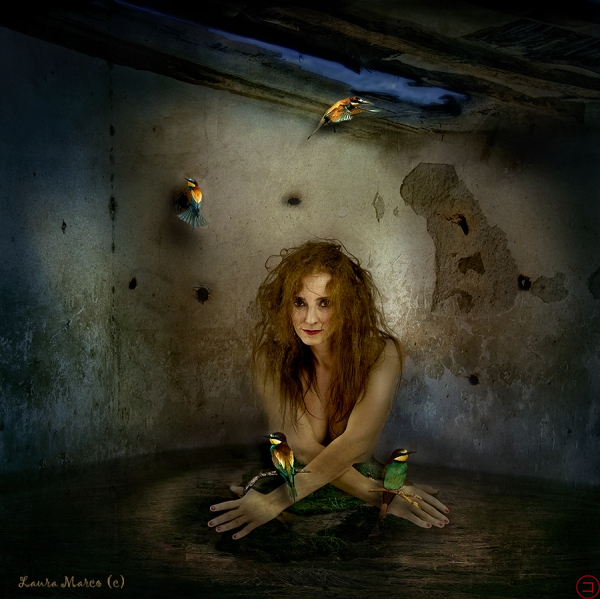 Image information
Description
--Laura Marco
Bound to Earth - please enlarge to see colours :)
Outside, it's already night and it's slightly cold. The bee-eaters return to their holes in the earth. Safe and warm burrows, tunnelled into the side of the sandy wall. They don't like the cold, so they will soon migrate to warmer lands, they'll go to more meridian places, in consonance with its colourful plumage, made to shine under the sun. Mother Earth is coming out to greet them. She's quiet and serene, spending her time with them. It's difficult to see her in the surface... in a human shape. So, it's a unique moment of closeness. Birds and Mother Earth rest easy, confident, being the same thing, the same natural link. And we all will get back there, returning to those soft and warm colours, to this refuge and calmness that is the Earth. I do not feel like going outside, I prefer to watch them together in this safe place, and you?...
Date
Wednesday, 10 June 2015
Filesize
261.67 KB (600 x 599 px)
File size of the original image
726.05 KB (900 x 899 px)
Share this image in Forums (BBcode)
Include image :
Link image :
Send to Friend
Please login first...
Total images in all categories: 345
Total number of hits on all images: 900,493
Home
»
Artwork 2014
» Bound To Earth
WELCOME to my Facebook Page, hope you'll enjoy and participate! thank you!