Home
»
Artwork 2016
» The Well of Ambition
Total images in all categories: 468
Total number of hits on all images: 2,497,722
The Well of Ambition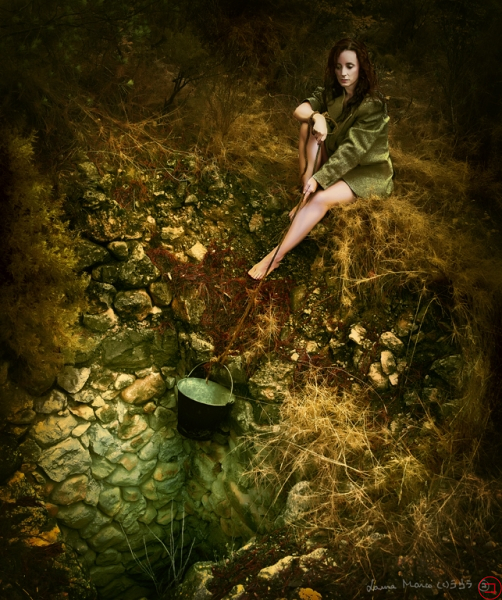 Image information
Description
It shows  itself striking and very attractive, this deep well of ambition; ambition to be the most valued, the most seen, the most requested ... the one that covers "covers" (if you'll excuse the repetition), the one about whom everybody talks. How easy it is to fall headfirst to the bottom of the well! Falling can fall very straightforwardly, but does anyone ever get out of there? Of that sort of prison, I honestly do not know ...
The woman stares at the well, putting herself too much at risk and in danger just only daring to do this, sometimes she's attracted by what is inside, but it's the worst thing she can do. Do not sit or even contemplate it!.
I have seen people fall, blinded by the brightness, forget friendship, human warmth, empathy and appreciation of others, forget everything that enriches our inner life: for what? ... simply to be : "The most clever and petulant", "those who know best", "those who best put the points on the I's", "those who have the last word", "those who move the threads", "those who eat the big cake "and in the end, they are only poor unhappy loners at the bottom of a deep well.
Remedies, there are few: "to be oneself", "to value relationships with others above any interest", "to be willing to give in favor of your friends or people close to our hearts" and to think that a friend is someone by whom we would be willing to annoy ourselves, just to do him/her some good.
The Well of Ambition ... has already engulfed many people; many proud and greedy. And more that is going to swallow ... In reality it has no physical place, but it appears everywhere and every time; I believe that this image has been sufficiently illustrated.
Date
Sunday, 20 November 2016
Filesize
317.02 KB (502 x 600 px)
File size of the original image
748.51 KB (643 x 768 px)
Share this image in Forums (BBcode)
Include image :
Link image :
Comments for this image
There are no comments for this image yet.
Guests are not allowed to post comments. Please register...
Total images in all categories: 468
Total number of hits on all images: 2,497,722
Home
»
Artwork 2016
» The Well of Ambition