Home
»
Artwork 2023
» Dance afternoon
Total images in all categories: 468
Total number of hits on all images: 2,497,822
Dance afternoon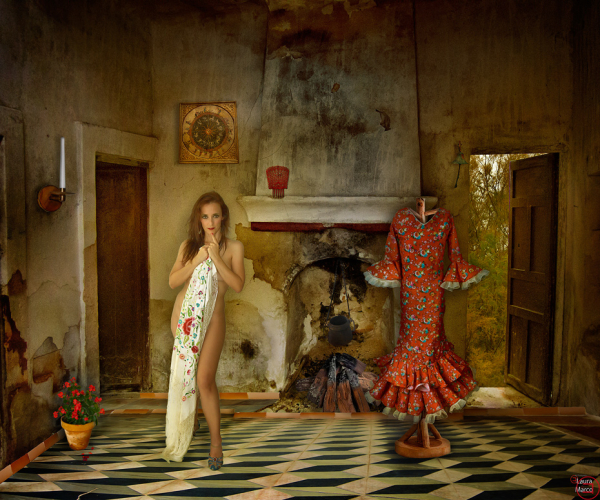 Image information
Description
In everyday scenes, it is normal to find two doors since the scene enters through one, develops and exits through another. Could be the most desirable course of life, because everything that tries to last forever becomes tiring, sometimes difficult to bear. That soft air and its insistence on entering the room were repeated, so in the end the woman left the door ajar, so that sweet afternoon freshness and smell would sneak into the living-room.
She had spent the entire week sewing on her dress, her dance dress... an excuse to enjoy and dance and dance… giving way to the overflowing joy that comes to us in these short moments in life. Since we can't hold life back, let's at least enjoy it without any measure, or so she was thinking at that precise moment. To do this, she had provided herself with a red beautiful comb and she was just missing the rose, better several roses to decorate her hair.
In one spot on that room, she was absorbed as she was in her thoughts, little by little she was going over every detail she would need for that afternoon of dancing. Aware of how fast life is, knowing how ephemeral each moment is, she didn't even bother to fix that painting that had fallen off, that small crack that had made its way into the wall. She knew that everything material was condemned to abandonment. However, feelings should never be condemned to abandonment.
The cold pot, the unlit firewood, the forgotten fireplace spoke of the speed of the moment... implacable in its spirit, why be meticulous and detailed if time erases everything?
Easy to imagine how her happiness entered through one door, with the singing of the birds, the warmth of the sun and soon it would leave through the other door, therefore, she was willing to make the best of that moment. That's why she smiled when she thought she had all her things ready and she clicked her heels on the floor several times, several rhythmic taps with the heel on the tile filled the room with joy. Almost a competition with the chirping of the sparrows outside. The best was that she was lucky not to feel tired to dance, and hit the floor and clap... but she would do it wrapped in her best suit, her prettiest.
At that moment there were no doors for her, neither entrance nor exit... it was her moment, her well-deserved happiness.
Happy to know that her dress would fit like a glove, tight to her body. She had taken care to sew it perfectly, because it would carry her happiness. From time to time, as if she didn't want to, she would glance askance at the door that led to that unknown dark room, wishing she didn't have to enter through it, but knowing that sooner or later she would, passing that threshold into the mysterious.
Click and move your feet, clap and move your hands... was the only thing her mind was telling her to do.
Let's happiness run free for a while.
Date
Wednesday, 29 November 2023
Filesize
427.38 KB (600 x 500 px)
File size of the original image
420.99 KB (930 x 775 px)
Share this image in Forums (BBcode)
Include image :
Link image :
Comments for this image
There are no comments for this image yet.
Guests are not allowed to post comments. Please register...
Total images in all categories: 468
Total number of hits on all images: 2,497,822
Home
»
Artwork 2023
» Dance afternoon