Welcome! Like an open window to the Art world! かんげい !
Home
»
Artwork 2015
» Lavanderas
Total images in all categories: 373
Total number of hits on all images: 1,582,429
Lavanderas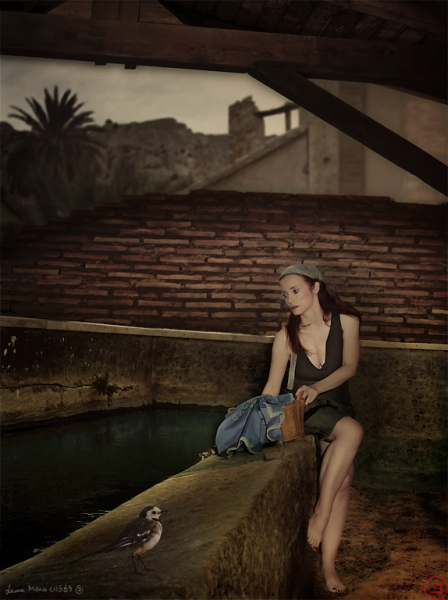 Image information
Description
--Laura Marco
Lavanderas
A reality that we'd never imagine, could be that progress in comfort and quality of life, in some way or another, may imply deterioration of social relationships. Having a washing machine at home, we all agreed that it means certain well-being for families, but if we take into account the case of my grandmother who had no running water at home and did laundry in a washing place, every day meeting there with many women at the same task where all knew each other and interacted socially. Where's the sociological progress? Ultimately, does comfort mean a bit of solitude and seclusion?, Maybe? I 've spent much time gawking, sat on the floor, watching the washing machine as it turns gently round and round washing clothes. The noise of water and slow movement relax me, a moment of solitude without any doubt. I found myself sometimes watching the drum spin, at least for ten minutes or even more; it sounds a bit silly, just staring at it openly. Would it be better than to talk with others? Can modernity turn us into empty people?.
I don't want these customs of the past, not so distant in time from us, only back to mid-nineteenth century, to be forgotten. I consider it a success to restore and caring for all old washing places in villages where once people washed clothes and even washed dishes, cutlery, pots ... just in a waterway always on the move, which will lead to the river.
At the hottest time I look for refuge in them, sitting on the stones where so many clothes were washed, so much effort, sheltered by the shadow of their roofs and refreshed by coolness from running water. As I was making the shots, an old woman came to wash her broom and dustpan. I waited patiently.
A homemade soap was used, these women manufactured it themselves, using mainly caustic soda, wasted oil ... and when curdled, it was departed into pieces.
With this image, I try to remember customs, even with a piece of homemade soap, accompanied by water beauty of these channels or ditches and a lovely environment of yesteryear. The bird in the foreground is called commonly "lavandera" (= washerwoman) (Motacilla - wagtails) I do not know if there's in this Spanish name any connection with the washing action, it's true that they wag their long, thin tails a lot. It's said that wagtails are first sign of the arrival of cold weather.
These two friendly "lavanderas" hope you like this work.
Date
Tuesday, 09 June 2015
Filesize
184.15 KB (448 x 600 px)
File size of the original image
399.23 KB (574 x 768 px)
Share this image in Forums (BBcode)
Include image :
Link image :
Send to Friend
Please login first...
Total images in all categories: 373
Total number of hits on all images: 1,582,429
Home
»
Artwork 2015
» Lavanderas
WELCOME to my Facebook Page, hope you'll enjoy and participate! thank you!