Welcome! Like an open window to the Art world! かんげい !
Home
»
Artwork 2016
» The Absence of Judas
Total images in all categories: 450
Total number of hits on all images: 2,221,965
The Absence of Judas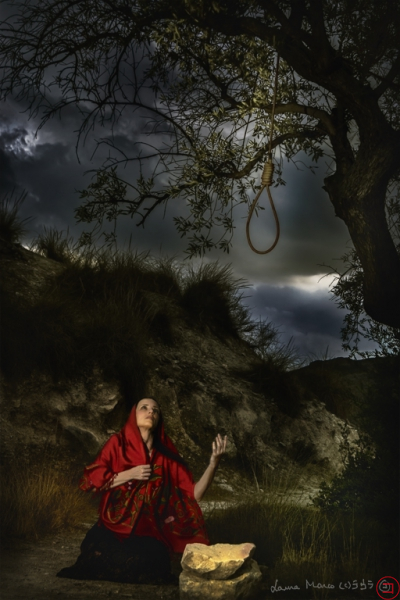 Image information
Description
The Absence of Judas
There's a considerable trek to get to that place and several ramps, a very uneven land, but I did not mind too much the effort involved and I walked as if pushed by an inexplicable inertia which led me to an exact place, all in silence. There were many terraces along to each side of the path, bridging those gaps of unevenness.
I was concerned about the moody sky that displayed above my head, at times sunlight, at times darkness, brightness was too great though its warmth in spring is very nice and welcoming, at last I was afraid I couldn't make to some extent the shot that I wanted.

When I arrived to the olive tree, while every thing necessary was put in place, the air became more humid, in front of me there was a beautiful valley with a river in its depths and several waterfalls. I was surrounded by rock walls in front me and at my back. Clouds covering from above the valley ... finally arrived.

Every day, we are used to adjust the opening of the eyelids to the brightness without realizing it and I gradually stopped feeling any stress or pressure in the area of ​​the eyes, I could open my eyes easily, naturally, open wide, like big windows made of somewhat like crystal ... without feeling any discomfort. The new cold air seeped through my nose deeply and increasingly the valley was filled before me in shadows. It was such a nice feeling that I just wanted to be relaxed and even I distracted a bit from work, almost I felt that I neither wanted to do anything only be sat there, but I had to do it ...
The light changed completely ... I do not know how it was possible so quickly, but I knew it was an ideal light for the image. Something was floating around, which made it all possible. Tranquility, silence, don't know what, but an overwhelming feeling nearly tangible.

And now comes the important matter, why I chose the character of Judas, because he had to play a very thankless role. He was going to be considered forever "evil" ... he was allowing another story to become a reality and influenced humanity forever. Without him and his role, otherwise it would not have been possible.
His sacrifice, to top it all, WAS... in vain, even his final award was unpleasant.
Nobody wanted him.

Every day we perceive reality as it is shown in front of our eyes, without thinking that there are many personal tragedies that made it possible.
This occurs at all levels that we can imagine.
For some stories to be possible, others have had to die on the way or no longer or never exist, just to be even sadder.

Each piece in this great puzzle of Life plays a role.
There're some roles for main actors and others can only wait for tragedy. It is so, and there is no kind of compassion or whatever.

This image, to my understanding, reminds us of those who are being sacrificed along the way and never had any main role.

Happy Holidays to all.
Date
Tuesday, 22 March 2016
Filesize
175.87 KB (400 x 600 px)
File size of the original image
345.49 KB (512 x 768 px)
Share this image in Forums (BBcode)
Include image :
Link image :
Comments for this image
There are no comments for this image yet.
Guests are not allowed to post comments. Please register...
Total images in all categories: 450
Total number of hits on all images: 2,221,965
Home
»
Artwork 2016
» The Absence of Judas
WELCOME to my Facebook Page, hope you'll enjoy and participate! thank you!