Welcome! Like an open window to the Art world! かんげい !
Home
»
Artwork 2016
» AQVIVIENE APARAR LAVIDA
Total images in all categories: 450
Total number of hits on all images: 2,221,973
AQVIVIENE APARAR LAVIDA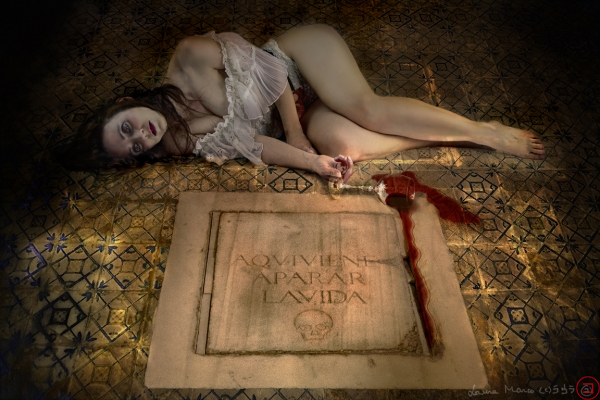 Image information
Description
In this case the inscription on the marble plaque that closes the crypt, gives the title to this artwork.
Wine is the symbol of life, as blood that spills and finally falls into the crypt.
As the legend says, " AQVIVIENE APARAR LAVIDA ", ("Here is where Life ends").
In that hole, blood, beauty, life, hopes, dreams ... will end, will stop. Revealing this idea as a good summary that reminds us that nothing is eternal.
I've frequently visited  the Cathedral of Murcia, when I was a student, many times I had to wait due to bus schedules, then I moved around the city, walking ... and I almost always ended there, looking for the tranquility of the place.
This wasn't my destination moved by any religious zeal, or any belief. Maybe the reasons were that the space is quite vast, freshness within those walls, or especially thanks to silence.
The silence.
My most handy throughout sentence daily is: "Silence, please!".
I need silence, to think and rest. In my case, like one drinks water every day, I need to enjoy moments of silence.

In the cathedral  many fine artworks can be found. One can enjoy paintings hanging in private chapels. Glancing at those artworks, it's easy to realize that maybe many answers regarding composition, colors etc. are there in front of our eyes. There're photographers who are troubled with many themes: it seems wrong to change colors, to change lights seems to be wrong as well, but I do not feel that inner struggle, I look in front of me ... and answers show themselves, hanging on the walls :)

The floor is glazed tile, from the XVI century.
Belongs to a private chapel, called "Chapel of Junterones", when I saw the slabs and the legend, I knew that I loved to highlight this so absolute truth.
It's there where we end. Well, not all of us, because this is a chapel for rich and influential people.
I couldn't cover the whole scene behind a fence, I hadn't the necessary focal length, but this fact, did not discourage me at all. "With the objective that I have, I do what I can". Adding the fact that I'm not very high, I suffered to get a clear and clean scene of the floor and the crypt.

Murcia is very beautiful. If you're going to visit the cathedral, when you seek the floor of the chapel of Junterones, you'll remember me, maybe thinking: "Hey!, this is the floor and the idea that Laura liked so much" :)

The wine is a red one from Ricote.
The glass cup is my trousseau.
I myself... lying with the dress that my mother gave to me as a present long ago.

Hope you like it!. Kisses.
Date
Sunday, 24 July 2016
Filesize
213.99 KB (600 x 400 px)
File size of the original image
957.75 KB (1152 x 768 px)
Share this image in Forums (BBcode)
Include image :
Link image :
Comments for this image
There are no comments for this image yet.
Guests are not allowed to post comments. Please register...
Total images in all categories: 450
Total number of hits on all images: 2,221,973
Home
»
Artwork 2016
» AQVIVIENE APARAR LAVIDA
WELCOME to my Facebook Page, hope you'll enjoy and participate! thank you!