Welcome! Like an open window to the Art world! かんげい !
Home
»
Artwork 2016
» Forevermore!
Total images in all categories: 450
Total number of hits on all images: 2,222,014
Forevermore!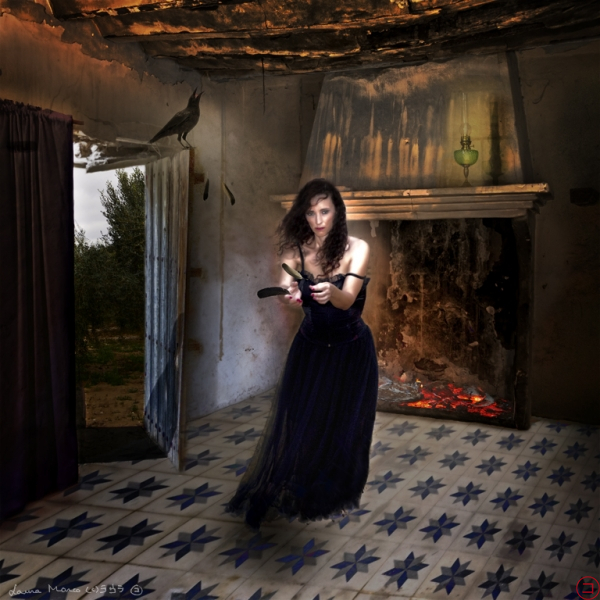 Image information
Description
Some time ago, a photographer friend of mine suggested to me how about making a version of the famous poem by Edgar A. Poe, The Raven. Right away, I was marveled at the idea. Due to my formation, I have been very in touch with Literatures written in the English language: American, British, Australian literatures etc... there are so many works and authors over the years, that is difficult to cope everything.
I already knew this poem. For the project, I've recreated a room that does not exist in reality, that is ... the two walls are located kilometers away from each other in reality, the floor is elsewhere far away, the landscape situated in my cottage etc.
For me, it's like a vision of this poem.
Given that I am a rebel spirit, I have not dedicated myself solely to shape the verses, details and elements.
I made a mixture, where won a total lack of "resignation".
While the protagonist accepts his fate and stays in the impossible and foreboding, I've painted all with "hope".
Substituting the "nevermore!" for "forevermore".
I think this is a rendering to enjoy another perspective, with my profound admiration and respect for this great American writer, Poe.
Humbly, I'd like to accompany my artwork with two new stanzas for this scene.
I hope you like them, here we go!
While he was sitting outside, afraid of memories of Lenore,
Unable to change his will and soul, - "Can't resign myself!" said she;
And with rage from the shadows, to destroy this liar crow she struggled, to be here anymore.
To ruin his unhealthy repeated curse over the walls and floor.
"We shall be together, we shall be together"-, she implored!
The man is now a mere shadow over the door.
Listening to the Raven's "Nevermore!."
***
No feather will stand on this floor, so her hands twisted to grasp their flying forms.
"Go away!"-, said she, "go far from my life and hopes, leave our love still and sealed", -black demon of the night.
And the Raven began to move, afraid of the woman standing on the floor.
The sad bird finished in a deep silent, his recurring words didn't sound anymore.
Now, the room is empty, no bad creature. Only a love, a love, forevermore!
Listening to her prayer "Forevermore!."

Forevermore! (c)  Laura Marco
Date
Saturday, 03 September 2016
Filesize
256.96 KB (600 x 600 px)
File size of the original image
503.08 KB (768 x 768 px)
Share this image in Forums (BBcode)
Include image :
Link image :
Comments for this image
There are no comments for this image yet.
Guests are not allowed to post comments. Please register...
Total images in all categories: 450
Total number of hits on all images: 2,222,014
Home
»
Artwork 2016
» Forevermore!
WELCOME to my Facebook Page, hope you'll enjoy and participate! thank you!