Welcome! Like an open window to the Art world! かんげい !
Home
»
Artwork 2016
» No Space No Time
Total images in all categories: 450
Total number of hits on all images: 2,218,725
No Space No Time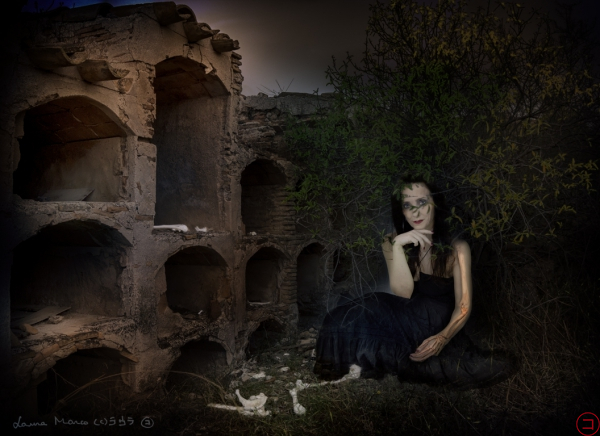 Image information
Description
Hello, again ... here I am showing you my last image, with great joy.
Generally while I'm working on ideas, I like being a little absent and detached from all, because by this way, it allows me to concentrate on the issues between my hands and have a necessary intimacy. To some extent I feel well in my world fro a while, where I can fully perform.
That day, when I saw the crumbling adobe walls, on top of that hill, I thought it was an ancient corral, because people used to build them in elevated places and separated from populations (due to odors). There was a very sharp turn on the road to access, but I went without hesitation.

The most amazing was the change in my mood when I got inside that place and looked at many niches, quite strange structures. I quickly realized that it was a cemetery. A forgotten cemetery? an abandoned one? How was that possible? ... the entrance was bricked up, but there was a free access, broken through one of the walls.
The ground inside was made of soil and was very uneven and spongy. My feet sank into the undergrowth and part of the soil. The place had been filled to some extent and randomly. I started walking and I was really scared to sneak into a hole in the ground (!).
Suddenly, I started to notice there were bones everywhere, I was puzzled! darn it!, almost this spectacle in front of my eyes gave me anger, some rage, to see that everything has been plundered. They had not respected those who rested there or at least there were many left that no one had claimed, totally abandoned. I saw bodies stuck between the planks that form the coffin, though incomplete. It could be distinguished bones of different ages, even shoes and clothes were mixed with remains of rotting wood. It came a moment that I was so blocked that did not know what to do. I was alone. Or not?

I never touched anything, just gazed intently everywhere for a long time and thought how this "eternal" sleep was outraged that way.
I was impressed with the place. I expected to see troughs for animal, not what I met there. The sky weighed on my head, that leaden gray sky and a very cold air was blowing. I took several shots, walking with care and as I walked back to my car, I knew this place was flashed on my head and I wonder how I would assimilate this experience, it was a big surprise!.


Date
Sunday, 10 April 2016
Filesize
189.45 KB (600 x 436 px)
File size of the original image
659.87 KB (1056 x 768 px)
Share this image in Forums (BBcode)
Include image :
Link image :
Comments for this image
There are no comments for this image yet.
Guests are not allowed to post comments. Please register...
Total images in all categories: 450
Total number of hits on all images: 2,218,725
Home
»
Artwork 2016
» No Space No Time
WELCOME to my Facebook Page, hope you'll enjoy and participate! thank you!