Welcome! Like an open window to the Art world! かんげい !
Home
»
Artwork 2017
» Being Judged
Total images in all categories: 450
Total number of hits on all images: 2,218,654
Being Judged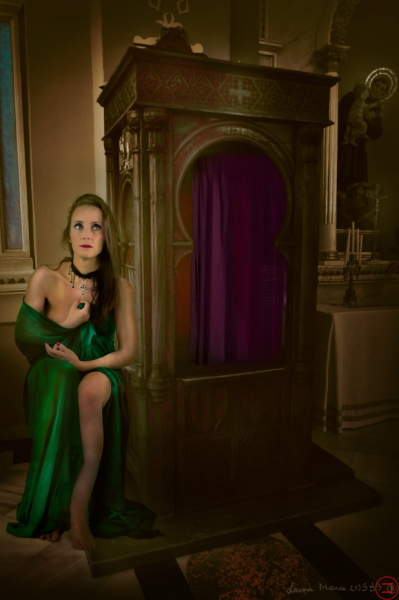 Image information
Description
In this scene, several conversations are taking place at the same time, which are attempts to show how many times we are judged in our life, really constantly without even realizing it. In the background, the father talks to the son, this would be the purest and perfect conversation, in the foreground, the woman speaks with a presence inside the confessional and finally, this image is speaking to anyone who stops to observe it just for a few moments .
Many times we judge and are judged by people who are even more full of faults and bad deeds than ourselves or vice versa. We observe everything around us with our own moral, our principles, our learned social norms or even our rage, envy, greed or ambition. All these molds, we fit them, again and again, in those things that surround us, people or actions and sincerely ... we make others suffer, we are unjust and at the same time we suffer ourselves.
As we realize that we judge and are judged constantly, we end up giving up. Giving up ... activities and friendships, just to be able to find at peace with ourselves. This form of social behavior, in large measure, leads us to ... a certain loneliness.
The conversation taking place in the background, between father and son, in the end ends up being the most rejected as an example of the perfect social model. Who wants to be like people say we have to be and not as we really are? In the end nobody wants to be the perfection of anything. It tires, it is boring and lacks creativity and authenticity. The conversation had by the woman and the "presence" inside the confessional, is the most challenging and real, which is given at every moment of the day to day.

She is being judged for her bad deeds, by someone staged as a "red halo", synonymous of imperfection. Red, in this case, is a synonymous of evil, with flames burning forever in hell. There is no doubt, that ... whoever judges, has greater imperfections than anyone and is not the one to do that. I remember when I was a child and I still had a religion, that when I arrived at the confessional, I had to "invent" sins because I honestly could not find what I could say to that person, I did not have any sins I could tell. Thus, I took my religion book, sought the best considered sins, grandiloquent and they were what I said, in sum ... I sought the perfection of one's own evil. Amazing!.
Day by day it becomes a manipulation of one another. And finally, this conversation that keeps the image with you, where everyone must draw their own conclusion. Perhaps in the end, the balance is... in a mixture of "freedom and solitude".
Date
Sunday, 12 March 2017
Filesize
133.67 KB (399 x 600 px)
File size of the original image
317.08 KB (618 x 929 px)
Share this image in Forums (BBcode)
Include image :
Link image :
Comments for this image
There are no comments for this image yet.
Guests are not allowed to post comments. Please register...
Total images in all categories: 450
Total number of hits on all images: 2,218,654
Home
»
Artwork 2017
» Being Judged
WELCOME to my Facebook Page, hope you'll enjoy and participate! thank you!