Welcome! Like an open window to the Art world! かんげい !
Home
»
Artwork 2017
» Between Faith and Doubt
Total images in all categories: 450
Total number of hits on all images: 2,218,682
Between Faith and Doubt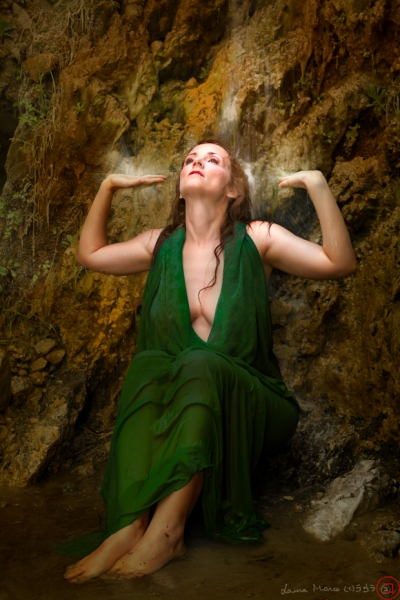 Image information
Description
Minutes passed, and she continued wandering through the path to get there. Overcome a little by fatigue, her steps followed the narrow trace, full of dry shrubs, many dry stems that scratched the skin. At each step, she felt her calves squeezing, where long, incarnate threads were drawing capricious designs on her legs, the crudeness of the undergrowth on her body, her tender skin ruthlessly torn by brambles. She was making her way across.
"What does this pain matter?" - the reward when arriving will be beautiful indeed. Possibly, her impressionable mind was not conscious of her shambling walking, absorbed was she listening, at the distance, to the rustle of the water running through the boulders. There was a murmur of little water, but it fell with rage, splashing the ground in an unstoppable clatter, seeking its passage to the river.
"It seems to me, every day to be the same, moments that are equal to each other", an effect produced by the heaviness of the mind, mixture of heat and stunning. Somehow, confident in the fidelity of her force, she continued... this perfect exodus.

The final gift was worth the effort, there came the feeling of cold water falling on her skin, thousands of droplets that caress the entire body and in a fight to cover all clothing, hair and body, leaping her soul back to the present.
The little mud around the feet stands for impurity that cleans itself with water, its purity and cold cleans everything, whether material or spiritual.
"I prize these moments more than anything, they're so magical and empowering" - a short duration, which makes it impossible to get used to them.

The water jumps, the water dances in a thousand bright drops. Finding impossible to seek some rest in the sky, no cloud, only hot mist; Some day not far away will come the end of the reign of the sun, and the victorious rain queen will leave to water the fields, water the earth, wet the streets, refresh the spirits.
Perhaps the mind can remain in a spiritual rest forever, returning with our memory to a refuge of peace. And yet again, eager-footed, she returned home. Tensioned between faith and doubt.
Date
Tuesday, 04 July 2017
Filesize
202.54 KB (400 x 600 px)
File size of the original image
546.86 KB (620 x 930 px)
Share this image in Forums (BBcode)
Include image :
Link image :
Comments for this image
There are no comments for this image yet.
Guests are not allowed to post comments. Please register...
Total images in all categories: 450
Total number of hits on all images: 2,218,682
Home
»
Artwork 2017
» Between Faith and Doubt
WELCOME to my Facebook Page, hope you'll enjoy and participate! thank you!