Welcome! Like an open window to the Art world! かんげい !
Home
»
Artwork 2017
» End of the Path
Total images in all categories: 450
Total number of hits on all images: 2,221,903
End of the Path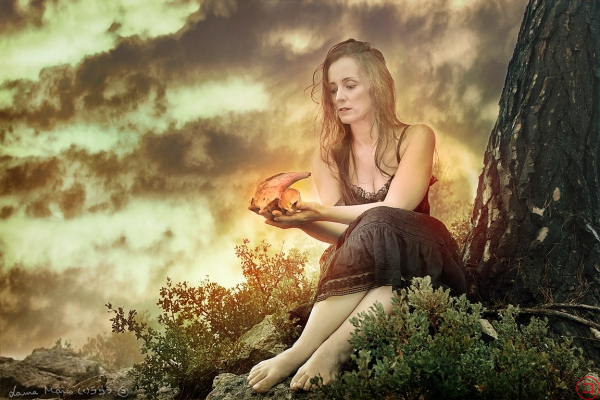 Image information
Description
   The gentle heat didn't come from the setting sun, nor from the warm rays that were almost hidden in the horizon. There! Her gaze was directed in the opposite direction, towards where she really felt warmth and vibrations of something quite similar to life ... Life called her and it was now in her hands.
She was amazed, that piece of bone emitted real heat and had a powerful sense of presence. The forgotten path she had chosen to rest was ideal, there was no distraction, only silence and peace in her mind and heart. There, without laziness, she tried to understand how it was possible to feel that well-being upon her hands. Her lips barely opened when she whispered gleefully:
   "I know... I'm not alone... and maybe you've got something to say to me ... I feel you on my hands warmer than the sun and all its strength and your bright light enchants my senses, tell me what do you want?, what do you want from me?"
   But the skull did not answer, did not say a word. It alone was silent between her and eternity, as a shut door.
   "Your heat comes to me like waves, like vibrations hitting the skin of a drum, I'm tired of not finding paradise here, tell me... what's on the other side? You're bringing me light where only darkness reigns".
And yet again, the worn and forgotten bone, weighed more and more in her hands and it shone with more force, as if with that light it wanted to supply the lack of dialogue that could not maintain with the woman, its lights were constantly changing in different warm tones as if turned in a kaleidoscope.
   She was insistent and constant and only asked the same question:
   "Tell me, tell me ... you who have been there, beyond this world, where is happiness?, here? there? should I wait till I pass by and meet you? Here I could only find emptiness, even coldness, lack of communication ... scarcely good feelings ... it's only a constant struggle, perhaps you can guide me ..."
   Then, she thought she'd heard:
   "The truth has only one way". The skull was turning into red now.
   "What had that foolish bone said? That's hard to find, truth accompanied by love?, by honesty? ... not virtues that are lavished on this side, I can not believe what you're saying."
   At the end she was feeling more and more tired and simply stopped talking to it, no words needed ... in fact, the real communication had been that heat, they'd transmitted to each other. That was enough. For long she was not even sure if she had heard those words and the whole picture was still strong with her. Still floating around, was that path the only proper way?.
   With sunset behind the horizon ... when the last ray had hidden and no longer shone, everything ceased. Her piece of bone no longer emitted heat nor glittered.
   The pain wrapped around her heart and there was a splendor of isolation in the whole scene. Sadness of thinking that all communication had been a mere illusion. She was no longer certain of anything.
Date
Tuesday, 07 February 2017
Filesize
221.66 KB (600 x 400 px)
File size of the original image
954.99 KB (1152 x 768 px)
Share this image in Forums (BBcode)
Include image :
Link image :
Comments for this image
There are no comments for this image yet.
Guests are not allowed to post comments. Please register...
Total images in all categories: 450
Total number of hits on all images: 2,221,903
Home
»
Artwork 2017
» End of the Path
WELCOME to my Facebook Page, hope you'll enjoy and participate! thank you!