Welcome! Like an open window to the Art world! かんげい !
Home
»
Artwork 2017
» Gachasmigas
Total images in all categories: 450
Total number of hits on all images: 2,222,015
Gachasmigas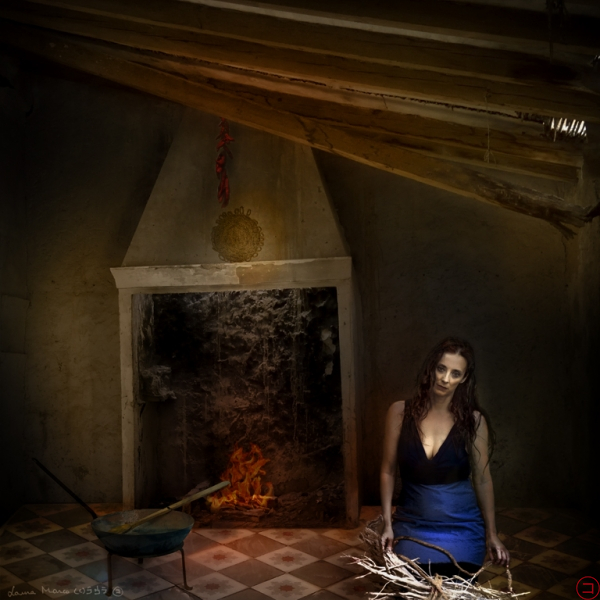 Image information
Description
Relentlessly, the soft rain was hitting the roof, threatening to enter through some of the holes already present in the old wooden structure. That was being an April with mild temperatures, not really a cold one and even less being sheltered inside the house, beside the heat of the sizzling fire. That day, the sounds of rain and those of fire rivaled in beauty, very difficult to decide which one to listen to. Fine drops continued to fall with their monotonous but endless rhythm, filling the dry land with new life, and hoarse thunders from time to time, were the real kings of the morning.
She did not dislike that dryness that most of the year surrounded her home and her own life, because almond trees and their bodies in each season had a different dance, dark and sinister trunks then and now elegant branches began to dress in gala, full of flowers, too beautiful for that sort of landscape, so their life there, was very ephemeral.
That haunting rain ... the rain is a blessing!, it's a reason for joy that was celebrated by cooking the food par excellence of a rainy day, a delicious "gachasmigas". She had wangled with dry firewood, which was always in the sheltered backyard, safe from dampness and strong nocturnal dew. Tied with her rope, she comfortably carried it inside, near the fireplace.
That morning, as she unravelled it, to revive the fire, her mind was lost hearing the soft sounds that caressed all around her, victim of smell of the damp earth or wet fennel, her body, mind and senses followed the rhythm of that rainy day, that day of jubilation on earth. At times, she worked and advanced, suddenly she stopped for a moment with her mind totally absorbed, truly she did not know very well where, perhaps far from there, mentally reviewing all the sunsets and landscapes and horizon lines that her eyes had caressed since ever.

She knew what it was needed: first to stir the fire to get a few coals that would endure till the end, then heat the water and when it nearly starts boiling, then spread the flour.
She'd look for a chair in the house to be seated while she did the arduous task of cutting back and forth and a thousand times the flour until it turned into those little balls, unequal, spongy, so rich!. All would be accompanied with fried vegetables. Vegetables, cabbage and "chicharras", onions, broad beans ... certainly, because it was what land offered there.
Some drops were already coming in through the hollow of the roof, and some birds could be heard, nestled among the remains of reeds and plasterwork, waiting for the storm to be over.
All would be in time, by the time they got back home, from the fields ... she could be calm, unhurried, enjoying each step, it was like a rain rite, that way she always has felt it. She'd like us to hear as the ladle strikes the iron pan, soon she'll begin to beat constantly with her little hand, maybe the ladle too big for her; she'd want us to see how the flames want to get inside too, she would like not to be alone at the time ... or yes, maybe yes! ... because she does not feel alone, in fact surrounded by a thousand and one details, who lived with her each day, danced with her in the party of the rain.

Date
Thursday, 06 April 2017
Filesize
208.24 KB (600 x 600 px)
File size of the original image
398.05 KB (768 x 768 px)
Share this image in Forums (BBcode)
Include image :
Link image :
Comments for this image
There are no comments for this image yet.
Guests are not allowed to post comments. Please register...
Total images in all categories: 450
Total number of hits on all images: 2,222,015
Home
»
Artwork 2017
» Gachasmigas
WELCOME to my Facebook Page, hope you'll enjoy and participate! thank you!