Welcome! Like an open window to the Art world! かんげい !
Home
»
Artwork 2017
» Inevitable Meeting
Total images in all categories: 450
Total number of hits on all images: 2,218,659
Inevitable Meeting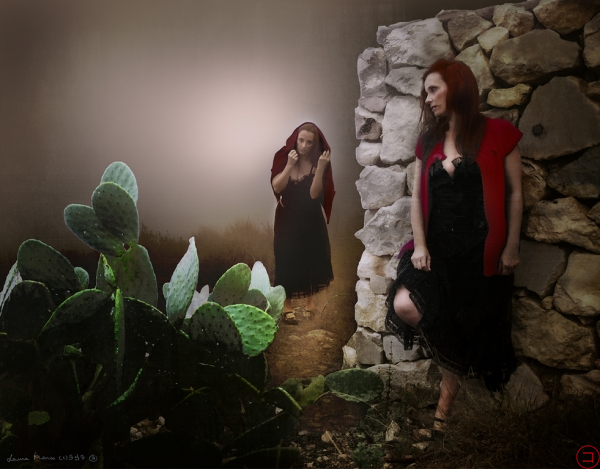 Image information
Description
It was not an animal or any shadow that was following her all the time, now she had seen it well, it was a woman! A woman ... who walked slowly but seemed sure of her steps. At that very moment, she did not know what to think, she had to get her breath back and to decide how to get rid of that annoying presence. Anyway, she was less afraid, now that she had perceived well ... she heaved and felt something similar to relief inside her veins, but only lasted a moment. What harm could she do? she finished by supposing the same one that she might do in return, the approaching woman looked tired!. It was never easy for her to think quickly, to make decisions at the last minute and that shelter, that corner of the wall would only hide her for a few minutes, damn it! there she was! Just a few steps away.
Almost a few steps between the two, so anxiety did not let her see or think clearly, she did not distinguish the walking woman's features and nevertheless there was something very familiar about her, and...  let's see!... she was dressed very much alike, yes! Clothes looked like hers, the red of his woolen coat with which she protected herself from the moisture of that early morning.
The Indian fig opuntia attracted all her attention and it did not let her to concentrate. She did not want to run away any more, or hide anymore. The time to create distances was ending by moments.
By winking her eyes, she saw more clearly, at last she breathed smoothly, in silence without any agitation. At last she thought about leaving her shelter and looking for a moment would clear everything up for her ...
Just when their faces met, her heart began to beat wildly as she saw herself reflected in that woman. The voice began to pour out by screeching through her parched throat:
- "It's me in front of me! ... Are you me? ... Who are you? It's not possible! Damn you, you're an apparition that does not leave me either by day or by night Who are you? Damn! "

She began to lose her mind by gradually staring at herself in that woman, who calmly replied:

- "I am you", why should you be afraid of me? Sooner or later we would meet.
I am your broken dreams, your failures, your fears ... I am every moment of your life that you have not liked, that you have tried to erase in some way.
I am your hidden side, the one that drowns in your throat whenever you do not like the moments lived or the decisions taken.
I am your swallowed tears, your dry cheeks, I am your angers ... in truth I am not a stranger for you. No one knows me better than you".

Suddenly, she left her hiding place and walked a few steps until she was face to face with her hidden side, very buried purposefully under innumerable layers of oblivion. Just it has come to meet her, in this Inevitable Meeting, to get her attention, to remind her that ... it could not be buried and would be forever a part of her.
Although it is hard to believe, at that instant the woman stopped wanting to flee, her features relaxed, her hands extended now pendulous ones and any tension left her body. She had no words, no fears. Tears wanted to leave her eyes and run freely down the cheeks.
His hidden side spoke again:

- "I knew the day that you wouldn't run away and would accept me. The moment we would meet face to face ... then you would start to be ..." happy "
The fog was leaving the path and the morning became clear and more present at times.

(c) Laura Marco
Date
Saturday, 28 January 2017
Filesize
189.48 KB (600 x 469 px)
File size of the original image
553.41 KB (981 x 768 px)
Share this image in Forums (BBcode)
Include image :
Link image :
Comments for this image
There are no comments for this image yet.
Guests are not allowed to post comments. Please register...
Total images in all categories: 450
Total number of hits on all images: 2,218,659
Home
»
Artwork 2017
» Inevitable Meeting
WELCOME to my Facebook Page, hope you'll enjoy and participate! thank you!