Welcome! Like an open window to the Art world! かんげい !
Home
»
Artwork 2017
» La Benancia
Total images in all categories: 450
Total number of hits on all images: 2,222,014
La Benancia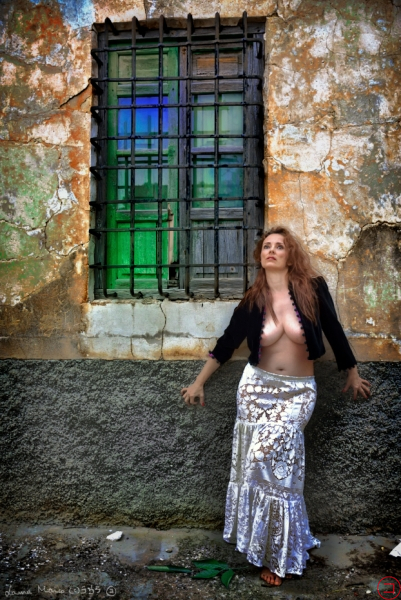 Image information
Description
The window exists, always halfway between us and our perception of reality.
The great meaning or lesson would be to be able to understand that one does not choose the window pane through which to look at and thus apprehend our surroundings. It could be a mistake to believe that it's straightforward to stay behind that piece of glass that we wrongly always hope to choose, to change it as we feel to. After having assumed this basic pre-established role, the following key point is to learn that what is really tragic is the fact that we do not choose "through where" we can gaze or perceive. It would therefore be a predestined nature. I'm encouraged to accept as true that everything predestined can be changed to some extent ... or maybe not!. It may not be possible. That would be the great advantage or tragedy, depending on our judgement. Pure scenery displays itself sometimes the same, it remains altered, every now and then boiling or full of life. At times, it's static ... only delighting our senses. Its beauty could be described as unalterable, as constantly ready or just displayed in front of us. It flows with or without us, into something that has been measured and referred to as "time".

The woman has almost an anguished gesture, because to a certain extent she's being aware that she looks at reality through her own window pane and feeling at that moment anxious to realize that she can not look through a different one. She is fully aware that others, each one embracing life through their own window panes, building their own bit of personal truth, are developing parallel to her. It could be a great wealth or an authentic struggle, desperation or anxiety to understand.

You who are staring at ... through which window pane are you apprehending life?.
You who have not even been able to choose it, it will be difficult for you to change or try.

Inner peace is attained when one realizes that there're many different pane glasses behind which can be observed. One is not better, nor worse than another. They are unlike. Do not try to make someone, other than you, look through your glass. You would only hurt the other one, who may not even be prepared to look through. The woman in a minute has realized, with some uneasiness, that each way is different and in front of her ... the air is still the same, the sky is serene as it should be, colours are the same, time of day is as supposed to be.
I'm prone to consider that when one is aware of the existence of the window, halfway between life and oneself; One can have an answer to his/her own existence. She does not change her window pane and even more ... it's about that she could not either.
No one can change.

La Benancia (c) Laura Marco
Date
Saturday, 10 June 2017
Filesize
271.93 KB (401 x 600 px)
File size of the original image
787.73 KB (622 x 930 px)
Share this image in Forums (BBcode)
Include image :
Link image :
Comments for this image
There are no comments for this image yet.
Guests are not allowed to post comments. Please register...
Total images in all categories: 450
Total number of hits on all images: 2,222,014
Home
»
Artwork 2017
» La Benancia
WELCOME to my Facebook Page, hope you'll enjoy and participate! thank you!