Welcome! Like an open window to the Art world! かんげい !
Home
»
Artwork 2017
» Unbearable Melancholy
Total images in all categories: 450
Total number of hits on all images: 2,218,712
Unbearable Melancholy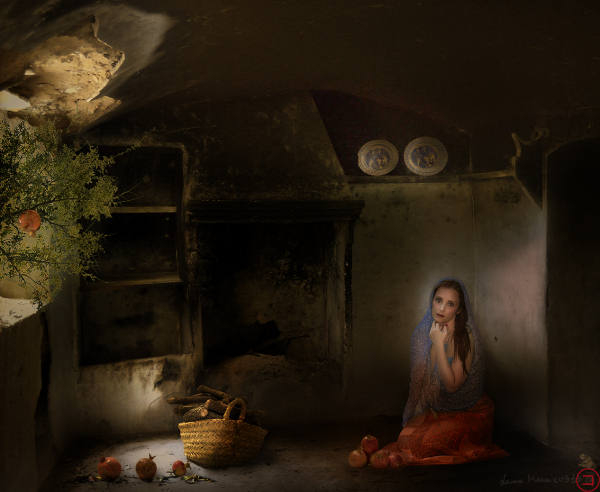 Image information
Description
Nature breaks into that decayed home, opening its way through a hole... Buildings fall, inhabited places where there isn't any lively beat of life again, so thus lifetime was waning and waning away. The memory of days lived there, was reflected in the mere darkness of the vacant chimney, in the wear invading all around where ordinary occupations were neglected or forgotten. Branches go curious to see where those changing lives hide, lives that come and go. Some tenuous rays of encrimsoned light made their way through the colour changing leaves. With some sadness, as if to remedy the situation, the tree offers the best it has: its pomegranates, one by one dropping into the floor. As if with them, would fill that shadowy place with life again.
The tree is helped by the sun that is outside, the earth, the water, all together give it life. There is nothing left inside, only memories.
During the whole of a tedious, golden-lighted and soundless autumn afternoon, she found herself coming to pick the pomegranates, knowing that they should be in that forgotten part of the house and patient she goes there, all bathed with a sense on insufferable melancholy. Gifts that nature gives her and she sits there for a while, the last vestige of life in that place. She sat there, gazing upon vacancy for some time, in an attitude of attention, as if listening to sounds of a daily life that did not exist anymore, she could dream there for hours. Autumn is a quaint time, it is neither soft nor extreme. She feels cold, the weather changes and she has a moment to collect the gifts for her in that forgotten corner.
Maybe, with a shudder either of coldness or loneliness, she couldn't find the solace that she'd expected there. Better days were distant now, as she was feeling oppressed by a thousand conflicting sensations, all closely shrouded in black.
Wrapped by the nakedness of the place, in an "Unbearable Melancholy".
Date
Monday, 20 November 2017
Filesize
323.07 KB (600 x 492 px)
File size of the original image
828.10 KB (1134 x 930 px)
Share this image in Forums (BBcode)
Include image :
Link image :
Comments for this image
There are no comments for this image yet.
Guests are not allowed to post comments. Please register...
Total images in all categories: 450
Total number of hits on all images: 2,218,712
Home
»
Artwork 2017
» Unbearable Melancholy
WELCOME to my Facebook Page, hope you'll enjoy and participate! thank you!