Welcome! Like an open window to the Art world! かんげい !
Home
»
Artwork 2018
» Baking Her Bread
Total images in all categories: 468
Total number of hits on all images: 2,497,739
Baking Her Bread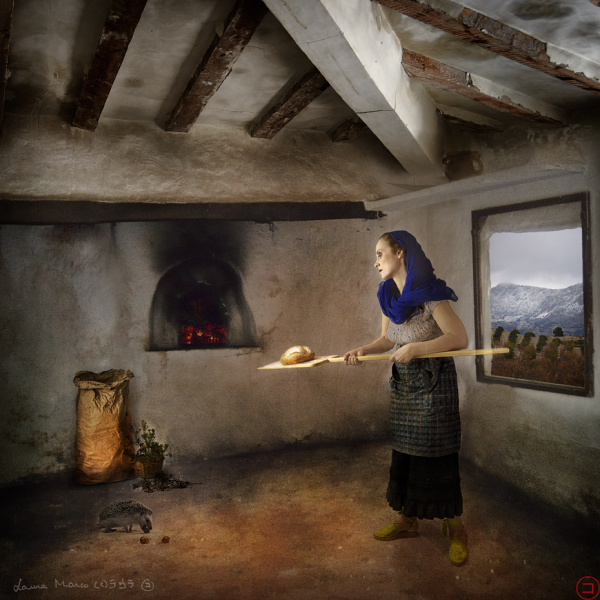 Image information
Description
It was some time ago, far in time when life and the fields and thoughtful days joyously fit together. Poised between ice and fire, she was baking her bread. Heat in the oven and cold in the snowy peaks outside, far and not really so far away ... this scene unfolds with a clear cold winter sky outside. Dedicated to such simple and basic tasks, like making bread, the woman lives her days, ephemeral in that house, ephemeral in heart and mind. In fact, she could have a thousand tales to tell, knowing the language of this landscape, the interior of her own home. One by one, these are places that communicate constantly with the woman, if not verbally, hence... in a cognitive or sensory way. Mountains, entwined paths, surfeited rivers with falling snow, all offered peace of mind, they were not shifting. They remained where they should be, they behaved as expected from them and thus created a pleasant sense of security in ragtime.
Days passed, one behind the other, developing a significance. Each new day wrapped in the aroma of baked bread. Can there be a more delicious, sweet or endearing aroma? "the smell of a home". How many times has she let her mind wander?, with idle gaze staring at the coals inside the oven, playing with the flames, unwholesome, little dancers. The essence that vivified around this home was known: the sack of flour, aromatic thyme ... and even the snails that the hedgehog was eating, who in turn was seeking its sustenance and prowled freely among these spaces.
Maybe during those coming years, everything would be lost, fugacious as time. This home would be emptied. Spring days and summer days and all sort of days will come, while the stifled furnace will remain forever like a dark mouth without bottom, little fretted entrance of a dismal and forgotten cave. Even rain, coming unfalteringly, will make its hole through the roof, sneaking over and over through plaster and reeds. It was cold outside, but in her heart, the warmth and sweetness of a home always nestled. She took care of the bread of her days and then gradually, her habit formed a protecting surface. A simple treasure of her heart.
Date
Monday, 12 February 2018
Filesize
397.36 KB (600 x 600 px)
File size of the original image
755.06 KB (930 x 930 px)
Share this image in Forums (BBcode)
Include image :
Link image :
Comments for this image
There are no comments for this image yet.
Guests are not allowed to post comments. Please register...
Total images in all categories: 468
Total number of hits on all images: 2,497,739
Home
»
Artwork 2018
» Baking Her Bread