Welcome! Like an open window to the Art world! かんげい !
Home
»
Artwork 2018
» Colomba
Total images in all categories: 450
Total number of hits on all images: 2,218,700
Colomba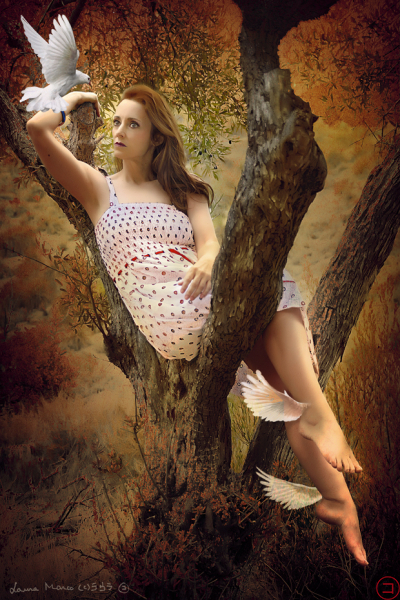 Image information
Description
Half a mile from home, at the edge of the abandoned unirrigated lands, where paths were sparse, an olive tree stood. On top of that abandoned, twisted and dry tree, a woman was sat. The farmers who had felled its mates were dead and gone long ago and a whole tangle of weeds, had grown instead. The simple fact of not feeling the earth beneath her feet was quite an incentive to desire to fly, to fly where imagination would take her, as high as wings could reach. At that moment, though she felt the cold of the place in her feet, in her body, but her soft wings and their continuous movement gave warmth instead. The question was: were her wings plumed indeed for such far flights? There, among dry branches and still some olives hanging from the tree, immerged in that strong contrast, she was safe to rest. Now cold, silence and oblivion hold illimitable dominion over all. Sharp dry twigs had scratched her, but there the woman began to feel as if she too could go flying away.
White as a symbol of purity surrounds the scene and in the end a companion friend came to rest on her arm. It did not feel fear, felt confidence and warmth. That day, two pigeons climbed up to the forgotten olive tree ... it seemed as if eventually they would start their flight and the bond of their common nature now drew them irresistibly together. A fraternal flight!, beating in them feverishly the heart of life. Seasons passed, time passes and the only thing that seems firm and sure could be Nature. Beautiful... thanks to being wild and abandoned, to being fearful and overwhelming.
This scene mates Time, probably touching the viewer, and the moment has been predestined from eternity for us mere mortals to dream.
Date
Tuesday, 23 October 2018
Filesize
440.90 KB (400 x 600 px)
File size of the original image
785.44 KB (620 x 930 px)
Share this image in Forums (BBcode)
Include image :
Link image :
Comments for this image
There are no comments for this image yet.
Guests are not allowed to post comments. Please register...
Total images in all categories: 450
Total number of hits on all images: 2,218,700
Home
»
Artwork 2018
» Colomba
WELCOME to my Facebook Page, hope you'll enjoy and participate! thank you!