Welcome! Like an open window to the Art world! かんげい !
Home
»
Artwork 2018
» Playing in the Attic
Total images in all categories: 468
Total number of hits on all images: 2,497,751
Playing in the Attic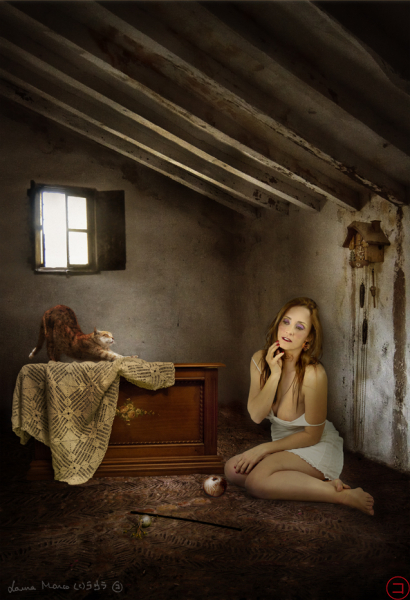 Image information
Description
She was always like she had a hideout to herself. That afternoon was clear and sunny, with the fresh warmth of a summer day, bringing along a lot of idleness. Her steps had led her to the attic, where a large chest stood full crammed waiting to bring out its lurking beauties. Surely, there would be many fabrics inside to be embroidered. She liked to embroider, in those long days, neither cold nor still so hot. It was, of course, the path that the needle took what made her remain in perfect happiness. Traveling the little slim piece of iron among interwoven fibers, tirelessly now above, now below, an indispensable part o a needle's life, could be "up and down"; This nature of the task revealed relaxing for her senses. It was fortunate for her the fact of finding happiness in gently touching those fabrics or brushing the cheek with them to consider its softness and after then choosing colors. These were pleasures that surely filled many hours of her days.
Full as her mind was of thoughts, she was keenly observant, not loosing any details in that corner. Comfortable with the slope of the roof, poorly lofty, she had become accustomed to it. Being the light that came through the casement enough to illuminate the entire space. In one place, in a slightly forgotten wall, the clock kept time, the pendulum followed its movement, quite rhythmic ...tic, tac, tic, tac... the only sound in the entire place, louder than her own breathing more intense than her own beating. She had climbed the stairs barefoot, as if it were a little prank, to get to that place, her somewhat childish experiment. When she often forgot to pull the pendulums, to move the chains, time no longer existed in that room, everything was forgotten in time, in the days that were spent in the lower part of the house, of her home. How can she deny herself the pleasure of that place? It was beyond her. She felt that she breathed an atmosphere of paradise.
At certain times, she had hurt her hands in the lid, which was heavy and when she opened it, it had a strange tendency to slam, without any warning. No sooner had she stirred many clothes already ... than a beautiful cat came inside through the small window. First, the animal looked cautiously and when it saw that the woman was poring over her tasks, without hesitation, let itself fall inside the room. When they saw each other, the woman did not scream in amazement nor screeched scared, she was not even upset. She liked cats and this one was affectionate and accustomed to not being alone, its hair was silken. With hesitant steps, she approached and finally with a doughty heart, she caressed the head, the back and see those reddish colors and white mustaches up close. Little by little, a playtime began, the woman forgot her sewing and looked for a reel of thread to play, what a surprise! There was a little ball too!. Suddenly she felt like a girl again. She enjoyed watching the cat grab the ball and jump again to catch it, doing pirouettes in the somehow magic atmosphere.
The time for rest arrived almost at the same time for both ... the animal stretched its back and its silken hair was now in a wild gossamer texture. Also, the chimney sweep came out through the small chimney of the clock, at each chime. Acting accordingly, the cuckoo, we can not forget the cuckoo, who with his little peak stroke the hours, pointing directly to her ear ... reminding her that it was time to go downstairs. To return to tasks, to return home. When the woman turned her head again from the clock to the direction of the cat, it was gone!. He had slunk away through where it entered, that small window, with an exit to the world ... always full of soft dreamy light and a thousand of sweet sensations.
With the special collaboration of Andrey Smeyan (with the image of the cat).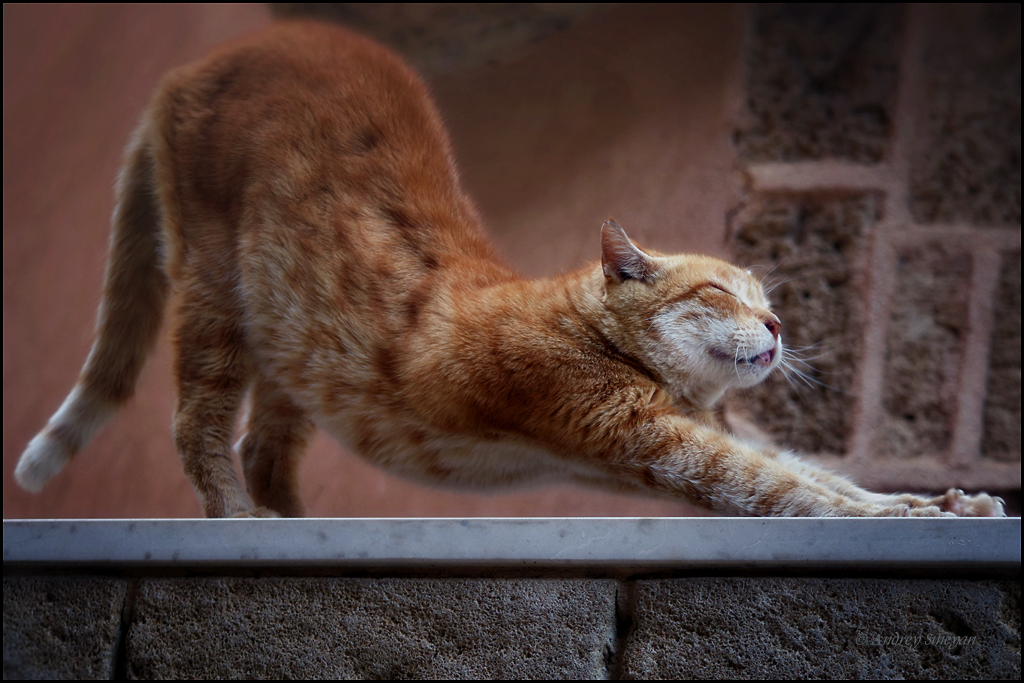 Original image by Andrey Smeyan - DSC_0506s
Date
Sunday, 25 February 2018
Filesize
276.39 KB (410 x 600 px)
File size of the original image
504.80 KB (637 x 930 px)
Share this image in Forums (BBcode)
Include image :
Link image :
Comments for this image
There are no comments for this image yet.
Guests are not allowed to post comments. Please register...
Total images in all categories: 468
Total number of hits on all images: 2,497,751
Home
»
Artwork 2018
» Playing in the Attic