Welcome! Like an open window to the Art world! かんげい !
Home
»
Artwork 2020
» GAIA
Total images in all categories: 468
Total number of hits on all images: 2,497,879
GAIA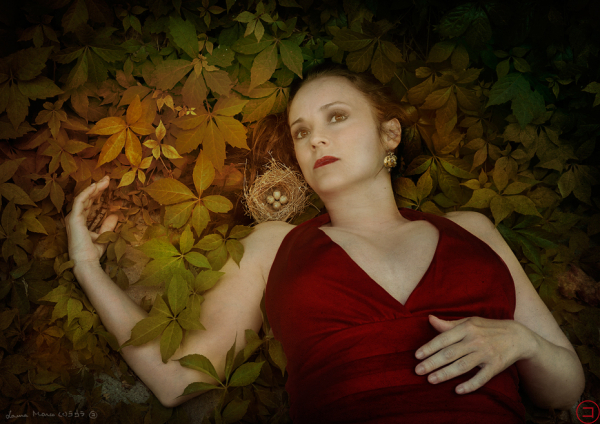 Image information
Description
Sagged in nature, in earth, in greeneries ... the woman sheltered the nest, offering it a kind of protection, bounded by soft leaves. Thus, Mother Earth supported and helped to follow the course of lifetime and to be able to see newness hatch from those little eggs, from that nest of illusion, of expectation. In short, to see how the lifecycle is being fulfilled.
Will it be long before the little birds were born? Admiring the outbreak of life, will birds hatch from eggs? And it is certainly not ... they will not be born.
The woman spent time next to the eggs giving love, searching for a meaning, next to the synonym of creation. Without wanting to admit that her macabre discovery no longer belonged to the cycle of life, without resigning herself to knowing and admitting that new lives will not emerge.
She had found the nest on the ground, fallen, cold, several days abandoned in the remains of a pruning. Branches looked like fallen and bleeding arms and limbs on a battlefield, writhing in a thousand mysterious ways that spoke of the pains of the fighters' bodies.
And she could not continue on her way, without stopping to feel sorry for the gap of love and care, a little nest which was already abandoned and cold, very cold.
Our present does not want us to remember our past. No value is found in the past and we cannot stop to enjoy and marvel at what everyone is now involved in forgetting. Sadly, inevitable to drop, to abandon things, situations and moments.
What do we do, giving love to "the inevitably expired"? Why can't our heart leave it in the forgotten? Why does the world in general get on the train of the wagons of oblivion, of the irremediably expired?
Could be a problem of sensitivity, maybe of personality and values. Why do we go through the moments so quickly? Perhaps the answer cannot be articulated in words, perhaps ...
Date
Wednesday, 15 July 2020
Filesize
350.59 KB (600 x 424 px)
File size of the original image
592.96 KB (930 x 658 px)
Share this image in Forums (BBcode)
Include image :
Link image :
Comments for this image
There are no comments for this image yet.
Guests are not allowed to post comments. Please register...
Total images in all categories: 468
Total number of hits on all images: 2,497,879
Home
»
Artwork 2020
» GAIA