Welcome! Like an open window to the Art world! かんげい !
Home
»
Artwork 2021/22
» Mirlo
Total images in all categories: 450
Total number of hits on all images: 2,214,730
Mirlo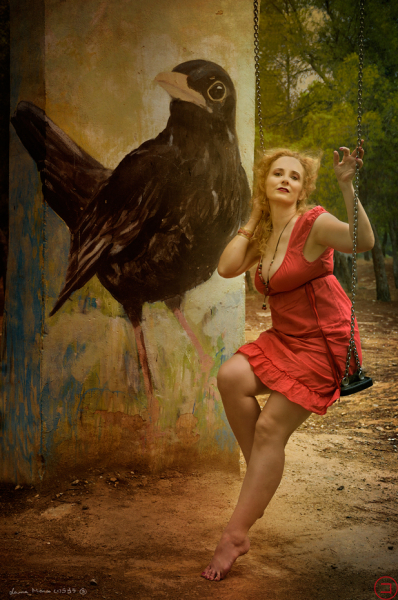 Image information
Description
Thou! who jump through the grass, who show yourself far down the road, precious blackbird, who don't see you… is because they don't want to. You give yourself between the leaves full of raindrops, rub yourself, you are simply too joyful. Seen here and there, oh merla! always with me.
I know that I cannot imitate your flight on a swing, but feeling the air that hits my face, the small drops of fine rain and the movement of the swing… look at it! … they bring me closer to you, to your freedom, so that I can touch it with my hands, with the tips of the toes and in the swing the feet point high, as high as your flight. Each rocking and pushing of the body forward act as a gentle feeling of detachment, of release. How impressive it must be to fly in the sky, above everything and everyone, among clouds, feeling fine rain and cold air!
Thou were always there from the beginning, like a premonition, a good expectation, always by my side. Curious is your song in the middle of the night or in the busy afternoon. The city is in too much of a hurry and is immersed in exaggerated activities, which take up people's time, everything is programmed in excess, more tasks than can be assumed in the hours of a day. There is no time to stop to look at you, singing blackbird! king of the orchards. Black dot that at the same time flies that walks between plants in the "huertas".
Maybe you're black to go unnoticed in a world where you don't fit. Neither you nor anyone.
Your black colour does not imply rejection, it leads to my curiosity. As in free flight, as in deciding to be unrestricted, one makes one's way through darkness. You are darkness and you are salvation.
You can't imagine how much I love you "merla", you've been there from the beginning of everything!
I keep hearing you sing at night and I know you will always be with me.
Thank you for teaching me to fly, thank you for teaching me to pay attention to freedom.
Date
Sunday, 18 September 2022
Filesize
369.74 KB (398 x 600 px)
File size of the original image
634.04 KB (617 x 930 px)
Share this image in Forums (BBcode)
Include image :
Link image :
Comments for this image
There are no comments for this image yet.
Guests are not allowed to post comments. Please register...
Total images in all categories: 450
Total number of hits on all images: 2,214,730
Home
»
Artwork 2021/22
» Mirlo
WELCOME to my Facebook Page, hope you'll enjoy and participate! thank you!