Welcome! Like an open window to the Art world! かんげい !
Home
»
Artwork 2021/22
» Pensiveness
Total images in all categories: 450
Total number of hits on all images: 2,214,769
Pensiveness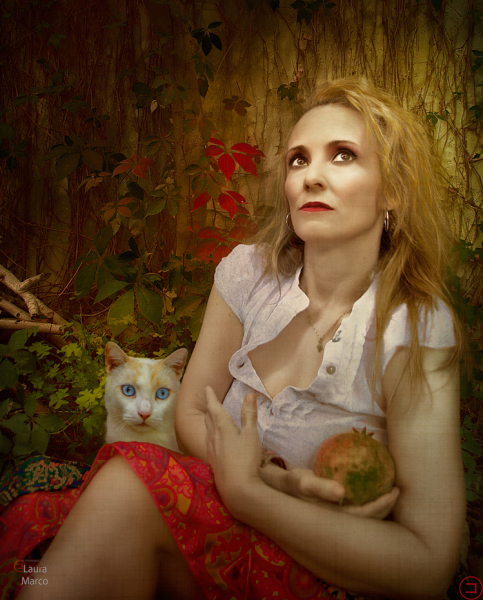 Image information
Description
Who knew the mysteries of those soft falls of the leaves, that subtle noise, when one leaf collided with another already fallen and dried up from the previous day, those movements and changes could not be appreciated by the woman, despite the nature of her intentness. Nature did not yield her to those sounds, neither made them for her ears. – "Sometimes, I search and search around me trying to find what I long for, the missing piece of my puzzle, being as if we were born incomplete and it was a vital necessity to rebuild ourselves throughout the days. Where to search? How?" -. We do not search only through the weakness of our feeble will. If we consider unfulfilled desires or aspirations, it would be a complete ruin, a disaster for our spirit... I couldn't for my soul know how. Let's our consciousness wander and discard disappointments. It could pass for having a high tolerance for frustration. When what we don't like is accepted, we are capable of moving to a higher state of mental improvement and have the most passionate devotion to life.
There were fewer leaves left to fall, but she didn't hear them fall... she enjoyed herself with the colours, colours pleased her greatly, so much beauty in those lights and so much perfection in those substances of the leaves, the floor as a carpet of tufted gold. There was she, delighting herself with many existences in the material world around her. Those noises were made for the cat's ears. He could, the cat was capable. He enjoyed every quick and almost imperceptible change; it was an enjoyment to see the play of his ears according to the direction each sound came from, he was possessed with a passion to discover. The feline was in his realm, his vital splendour. Controlling the ground around even with every nut that it occasionally hit as it fell and was playful rolling between his paws.
- "When you break through the barrier of frustration, a serene moment arrives and the path to spirituality begins"-. Haven't you wondered why in so many old portraits the portraited have their eyes turned up? They don't look ahead or at the ground, they look up. Many would say it is simply a question of religiosity, maybe yes or maybe not, but the demeanour of the person is shown there. Those eyes! Those large, those divine orbs! A strange serenity that I have felt in the glances of unusually emotionally aged people.
- "The point is about overcoming the material barrier that ties us to the earth, to everyday life, to everyday problems, to pain, to physical or mental exhaustion"-. She couldn't hear the same as her cat did, but she was able to withdraw consciousness from her mind, to float on a level of rest and emptiness. Her mind stopped working and gave way to spirituality, approaching the full knowledge of her existence.
Every day people are losing unworldliness, tolerance for loneliness, the ability to stop for a moment or live slowly. Shall these things be undeviatingly so? I mean to say if she couldn't hear the leaves fall, she was going to be with them in suspense, in presence, in length of time and her subsequent reflection.
- "Release the demon in you, take off your shoes and sit down to rest"-.
 Rest... that is the great meaning of life experience. Without any rest, there is no awareness of your life. Stop and look without looking. Look inside with your mental eyes. It's not your hair, it's not your skin... the great treasure is your interior. Your will therein lies, which dies not.
And those beautiful blue eyes invite you to stay here... and peer into his large eyes.
That the cat loved me I should not have doubt it. The wild eyes – of my love.
Date
Wednesday, 30 November 2022
Filesize
420.12 KB (483 x 600 px)
File size of the original image
721.21 KB (749 x 930 px)
Share this image in Forums (BBcode)
Include image :
Link image :
Comments for this image
There are no comments for this image yet.
Guests are not allowed to post comments. Please register...
Total images in all categories: 450
Total number of hits on all images: 2,214,769
Home
»
Artwork 2021/22
» Pensiveness
WELCOME to my Facebook Page, hope you'll enjoy and participate! thank you!