Welcome! Like an open window to the Art world! かんげい !
Home
»
Artwork 2021/22
» The Eye of Life
Total images in all categories: 450
Total number of hits on all images: 2,214,746
The Eye of Life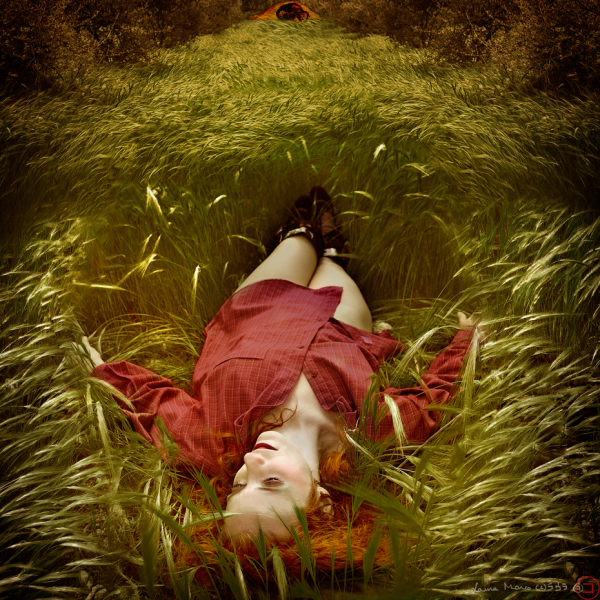 Image information
Description
Resting on that wheat spike bed, so soft and comfortable, she was not entirely aware of the great watchful eye that was surveying at her from the end of the field. A huge cut trunk, with rings that clearly showed the passage of time, with each ring one year passed and that also reflected the time that she had been there expecting and caring or thinking about that surveillance.
Her feeling was like hiding, got hidden from the gaze of that dark iris and that black pupil that was staring at her and it was something that had been repeating monotonously throughout her life.When she was a child, she had hidden herself from the eyes of others. Maybe from her parents at first, who are the ones who say what good and evil are. It seems that we hide to do all the actions that build our personality and guide our path.

Then, it continues to be the same over time, when we already have our own life, then it seems that we need to hide from others so that our own space and our own way of acting and interpreting life will succeed and get through.

In the end, we came to the conclusion that an isolated corner is necessary, a thick veil or a shell around which we can protect ourselves at all times and that gives some space for privacy, but really that giant external eye does not exist and has always been a product of our imagination. Perhaps no one watches over us, or what we do in our lives… Instead, we are we, ourselves, the great guardians of our live, our actions and our desires.

That big pupil from which the woman seems to hide or protect herself or on the contrary is totally aware, that big hesitant eye, all of that is a product of ourselves and of our wandering through life. In the end, what we do or not, will be the result of our own vigilance and care about ourselves, that is not really attributable to anyone else.

In that softness, in that rest, in that becoming where all the wheat spikes come together at gaze, there is really no difference between the eye and the beginning, the foreground and the background, between where we come from and where we are going to, is all the same and is the result of our life and directly an output of our passage through time.

Here I leave her, at calm or fearful of something that only exists in her imagination and with the passage of time, she will come to be next to that eye, sat beside those great watchers, who are actually… "her mind and her heart".
Date
Thursday, 23 June 2022
Filesize
672.08 KB (600 x 600 px)
File size of the original image
1,193.01 KB (930 x 930 px)
Share this image in Forums (BBcode)
Include image :
Link image :
Comments for this image
There are no comments for this image yet.
Guests are not allowed to post comments. Please register...
Total images in all categories: 450
Total number of hits on all images: 2,214,746
Home
»
Artwork 2021/22
» The Eye of Life
WELCOME to my Facebook Page, hope you'll enjoy and participate! thank you!