Welcome! Like an open window to the Art world! かんげい !
Home
»
Artwork 2023
» Allegro
Total images in all categories: 450
Total number of hits on all images: 2,214,808
Allegro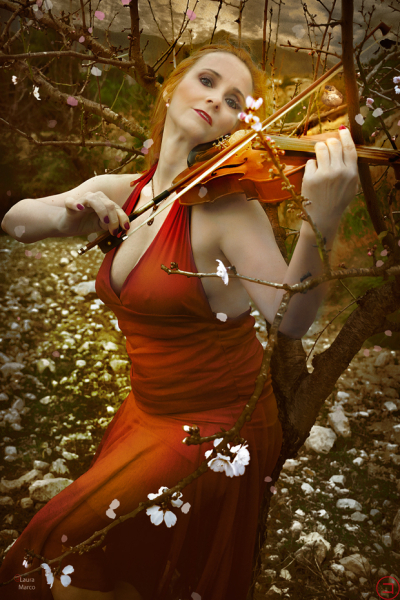 Image information
Description
Like waves that went up and down, in and out, life got into her heart so burningly, so did the music, the notes... how rabidly, they grinded and came out crazily one after the other with the rubbing of the violin bow. She never imagined herself as being in a competition to the beautiful sparrow, even to all kind of birds, which at that moment listened to her stupefied, barely hidden in his twig, although delighted and with a certain admiration for these unpredictable humans, who have the ability to understand the song of life, the high-pitched and communicative sound of existence. In an enrapture, the bird listened to her and she listened to him... perfect love!.
- "Delicate sparrow, she never pretended to reach your glory! Here she was simply with her allegro, celebrating your company"-.
The earth pampered us, life spoke with a fine rain of sweet and silent petals that fell, giving a majesty to the representation that was offered there. Representation only for a few crazy people, who dared to be left alone in the middle of a wasteland. Just alone.
The ground full of stones seemed like a stimulating carpet underfoot and the coolness that still remained from winter in the nascent spring still reigned. Neither the bird nor the woman paid attention to it, because blood ran through their bodies, sublime music… notes were falling apart one after the other.
In that afternoon, she felt that her melody reached the distant peaks and if it had not been so, her faithful companion, the sparrow, would take her allegro everywhere, to the far mountains, to the slopes, to the peaks, even boulevards and roads. Travelling in his trill.
"I know it won't last forever", "I know it won't last forever", the woman repeated to herself over and over again as she rubbed the bow against the strings, ripping out her thoughts, her music, in perfect tune for her ears and those of her buddy.
And I insist, yes, yes... I want to wake you up, I have put my effort into it. Life falls in petals, in a rebirth, furiously... a life that never stops.
And I know that my happiness and that of the sparrow is not forever.
Beautiful spring. Love you!
Date
Saturday, 25 February 2023
Filesize
382.95 KB (400 x 600 px)
File size of the original image
617.09 KB (620 x 930 px)
Share this image in Forums (BBcode)
Include image :
Link image :
Comments for this image
There are no comments for this image yet.
Guests are not allowed to post comments. Please register...
Total images in all categories: 450
Total number of hits on all images: 2,214,808
Home
»
Artwork 2023
» Allegro
WELCOME to my Facebook Page, hope you'll enjoy and participate! thank you!