Welcome! Like an open window to the Art world! かんげい !
Home
»
Artwork 2023
» Fill the Reflection
Total images in all categories: 468
Total number of hits on all images: 2,497,760
Fill the Reflection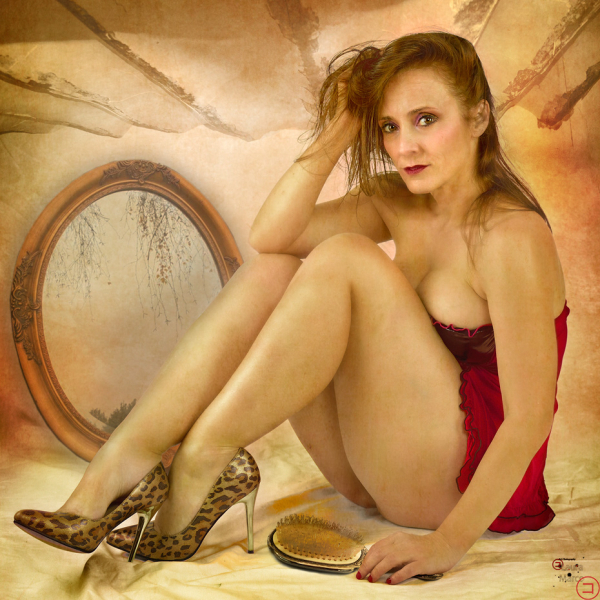 Image information
Description
When taking a glance at the cold, smooth surface, toward which she pored over with a kind of curiosity and expectation, the result was always the same: she couldn't find her reflection.
The brilliant ability of that smooth surface was to provide us with truth. Evidence that was in front of it, too simple: one could ask about a doubt, a yearning and it answered with the certainty of what was there.
Those days were long and a somehow tedious in the near summer. Temperatures became inflamed and everything languished, entering that circle of slowness... concerning not only actions, but even thoughts. Those sensations where a simple touch could trigger a million vibrations, as those of a friction with a sheet, or a brushing with a shirt when dressing.
Intrigued, from time to time while smoothing her hair or rubbing her head with a strong massage, she would take a sideways glance at that appreciated mirror and see the reflection of the outside, her beloved garden, the branches drying out due to increasing heat, that delicious air, she could even perceive the smell reflected, yes! that aroma has a warm colour that thickened the surrounding air to a very unusual degree of drunkenness. To her astonishment, her reflection was not there, there was no reflection of her body.
This is how days passed one after the other and in the meantime, her mind used to think as fast as fingers move in a tremolo: Why? why can't I see my reflection? She just wanted to recognize what she was like. Each time she found nothing, a fugitive emptiness.
But , in spite of these things, at the end she nearly contracted an intimacy with the surface. One beautiful and sweet morning, that air around her just whispered in the ear… -"you will only glance your reflection if you look at yourself".-
-"True!, How was it possible?, she asked"- .
The woman that morning combed her hair with more energy, happier than ever, she was ready and willing. There was no need to look at any reflection in a mirror, grasp the hint!.
Keeping now steadily in mind that it was her… her clothes, her arms, her thoughts, those dancing and hard-working fingers, they all were "herself". Under those agitating circumstances which ensued, she was her illusion of each day, her tasks, and what she truly did.
She felt a creeping of the air, becoming more and more joyful, satisfied to know that she finally understood a part of the meaning that everyone is looking for: "the presence and essence of oneself".
In feeling her way, she had found many angles, and thus deduced a strange but vital idea: that essence is not offered by anyone's opinion, or image formed by other people. What we are, is not anywhere. Nor is it anyone's formed idea. There is no reflection that shows how we are, by thinking this way, we are giving this issue a fair trial.
Don't believe the reflection you can see, it's fake. People are walking energies filled with incredible power that cannot be locked up anywhere, neither encapsulated or reflected.
Never get the idea or the image of a person, the reflection is worthless, a grotesque one. Give them the benefit of the doubt, get close to them, that is where their spirit truly resides.
We really are hot, walking energy, with a tangle of potentially incredible thoughts in our heads. What is desirable is that this tangle unravels for the good.
For good and love, mixed with forgiveness.
Who wastes time looking for a reflection in a mirror? Or the reflection that society can share with you?.
Date
Tuesday, 02 May 2023
Filesize
428.20 KB (600 x 600 px)
File size of the original image
366.80 KB (930 x 930 px)
Share this image in Forums (BBcode)
Include image :
Link image :
Comments for this image
There are no comments for this image yet.
Guests are not allowed to post comments. Please register...
Total images in all categories: 468
Total number of hits on all images: 2,497,760
Home
»
Artwork 2023
» Fill the Reflection