Welcome! Like an open window to the Art world! かんげい !
Home
»
Artwork 2019
» The Two Entries
Total images in all categories: 450
Total number of hits on all images: 2,214,829
The Two Entries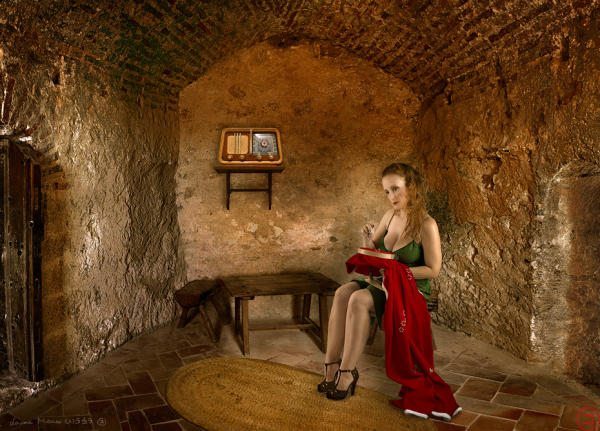 Image information
Description
It was not that an idle moment, because she was embroidering those flirty petals on the frame. She didn't know why she kept using the thimble if there was no hardness when it passed the cloth. The red linen was of good quality, the fabric of the fibres was perfectly seen with the naked eye. There was no doubt, she used it due to her grandmother's memory, her mother's memory, accustomed to see them so many times with a thimble on the tip of their finger. In fact, that day she was delighted in her homework, while enjoying the melody that sounded on the radio.
That radio was her only company, but it became a little hateful when it didn't tune in well.
Perhaps that moment and that scene well represented her personality, her predisposition to never be idle, needing something in her hands, not being able to keep her hands empty or still.
The woman embroidered calmly and only she was bothered from time to time, by the sensation of heat in the contact of the fabric. The fabric weighed, thrown in the hoops, it heated them a little, otherwise everything would have been calm if it wasn't ... if it wasn't ... for those two entries.
Those two disturbing entrances that spread their presence in the scene, creating a corridor from one to another just in front of her, right in front of her gaze. And through that imaginary corridor, which spooky red carpet, characters paraded, entering and leaving that forced scene.
Some characters, most of them pompous, full of pride, paraded comically, as if the world was at their feet. Strangely, there they were, daily, coming and going, like cocks in the corral, with well-stretched necks. Doing and undoing, in a parade without any equal. In her reverie, the woman looked at them and wondered why the scene could not be calm and simple, relaxed in her needlework and hoping that that coming and going between the two entries ceased at once. Who had orchestrated all that ridiculous entertainment? She wanted to close the doors and recover the tranquillity of her life and that nothing and no one got into daily scene.
At times the walls complained, the floor changed its shape and the little reddish slabs turned sharply. In that annoying vision, everything was misplaced and it really was an undone puzzle.
With the music not tuned, just with the buzzing of the stridency, she felt stitches in her fingertip, they were accompanied, sharp sounds and pangs of pain; at that moment she opened her eyes, and saw the drops of blood that ran down her finger, a fine thread that brought her back to reality and took her out of the world of dreams.
She had fallen asleep, with her needlework on her lap ... but still she looked at the entries, with some suspicion, with some distrust, wishing those entrances weren't alive.
Date
Wednesday, 11 September 2019
Filesize
464.81 KB (600 x 431 px)
File size of the original image
848.97 KB (930 x 669 px)
Share this image in Forums (BBcode)
Include image :
Link image :
Comments for this image
There are no comments for this image yet.
Guests are not allowed to post comments. Please register...
Total images in all categories: 450
Total number of hits on all images: 2,214,829
Home
»
Artwork 2019
» The Two Entries
WELCOME to my Facebook Page, hope you'll enjoy and participate! thank you!