Welcome! Like an open window to the Art world! かんげい !
Home
»
Gray Scale
» A Stop along the Way
Total images in all categories: 450
Total number of hits on all images: 2,214,819
A Stop along the Way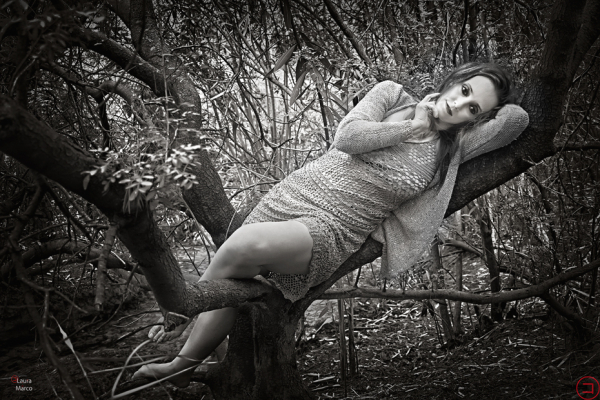 Image information
Description
A doubt gripped her heart, so strong that she did not feel comfortable either on the ground or at the height of the branches, like a frightened or confronted animal. Why is human nature so unfathomable? Human nature does works alone without breath, without rest. An engine that does not stop and is piercing our interior.
That afternoon, the coolness coming from the stream attracted her to that current of fresh water, while she walked along a path almost lost in the vegetation, she was motivated, without realizing that the brambles and other plants scratched the skin of her legs, she did not even feel the pain because she seemed like an animal at the mercy of others, that others might prey on her.
All that consciousness accelerated her heartbeat and upon reaching the long-awaited water, instead of quenching her thirst, she decided to climb the branches, seeking refuge, to remove her fear. There all her pain and anxiety became zero and tranquillity came. Doubt also, at the end of that hidden path, came the uncertainty of not knowing who she was or where she was... at what point of her life she was, even if her place was the ground at the mercy of the voracity of others or her destination was the branches, like an animal that devours.
Those type of thoughts ran through her head one after the other: eat or be eaten.
What was her place? In truth, neither one nor the other... nor would she allow it, nor did she feel the desire to climb the branches above the others on the ground.
What was her place?... The place where water pools when it does not flow, there she achieved the serenity of her ideas and filled her heart with peace.
The Mistral raged and began to move all the branches around her with force, howling through the thicket, in tones almost unknown to her and bending most of the stems, turning her heart upside down, that wind that blew made her finally descend the trunk and look for water to drink, always where it runs... clean running water.
Moisture down her throat, coolness warming her heart and clearing her thoughts. Relaxing the growing anxiety of a nervous system that never lets us rest.
Thus, without a fixed place, she returned to the path, walking a path that she did not really identify as her own. Her eyes were crowded by surprise or open by the alarm of knowing uncertainty exists.
The tree, her refuge, her house... are still there and will continue even longer than her.
The beloved witnesses. Witnesses of her doubt, of the uncertainty of not knowing her place.
Date
Sunday, 23 April 2023
Filesize
309.10 KB (600 x 400 px)
File size of the original image
502.09 KB (930 x 620 px)
Share this image in Forums (BBcode)
Include image :
Link image :
Comments for this image
There are no comments for this image yet.
Guests are not allowed to post comments. Please register...
Total images in all categories: 450
Total number of hits on all images: 2,214,819
Home
»
Gray Scale
» A Stop along the Way
WELCOME to my Facebook Page, hope you'll enjoy and participate! thank you!