Home
»
Artwork 2020
» El Aljibe
Total images in all categories: 409
Total number of hits on all images: 2,159,609
El Aljibe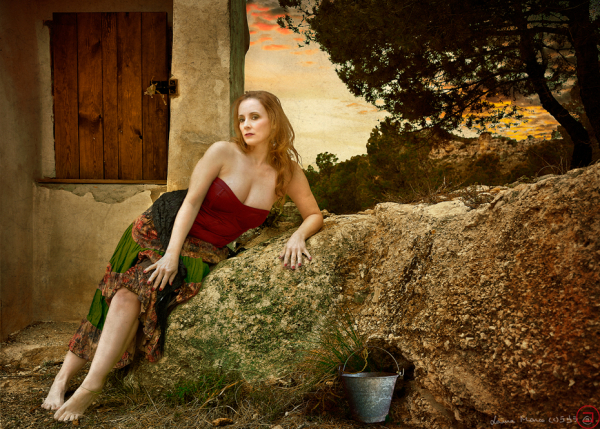 Image information
Description
Sometimes it happens that life changes and we are not so in line with what surrounds us, landscape is the same, but there is no union, affinity, even mimicry ... there is no mood union with the environment. So, we look for assuredness in all what is known around. Could only be certainty in landscape, in colors, in drawings of clouds?.
My notion is different from what I find around which often does not belong to me and with which I do not identify.
When the woman takes a bucket of water from the well, she does it knowing that she plunges it in the known, in the backwater of purity well hidden in the bowels of the earth.
The guardian land of its purity, guardian of a certain security of mind. With some effort the bucket is taken from that pure, pristine mirror, broken at times in waves. What she does deform the surface, a false copy of reality. Who can I see, what can I see? I look at myself in a world I don't recognize, full of banality ... so false that it crumbles when she sank her bucket, in that cold and humid silence, in that alluring darkness.
It's known that surroundings offers water to fill the well, a part of rain will enter but fortunately sand or a grap of sticks will filter all impurities, finally water remaining just still. It's tiring although pleasant to look at truth at the bottom, from a world so little compromised and spurious.
In the well we'll gather certainty for a present of unsteady needs.
Date
Thursday, 23 January 2020
Filesize
490.84 KB (600 x 429 px)
File size of the original image
879.80 KB (930 x 666 px)
Share this image in Forums (BBcode)
Include image :
Link image :
Comments for this image
There are no comments for this image yet.
Guests are not allowed to post comments. Please register...
Total images in all categories: 409
Total number of hits on all images: 2,159,609
Home
»
Artwork 2020
» El Aljibe
WELCOME to my Facebook Page, hope you'll enjoy and participate! thank you!