Home
»
Artwork 2023
» Transience
Total images in all categories: 450
Total number of hits on all images: 2,221,953
Transience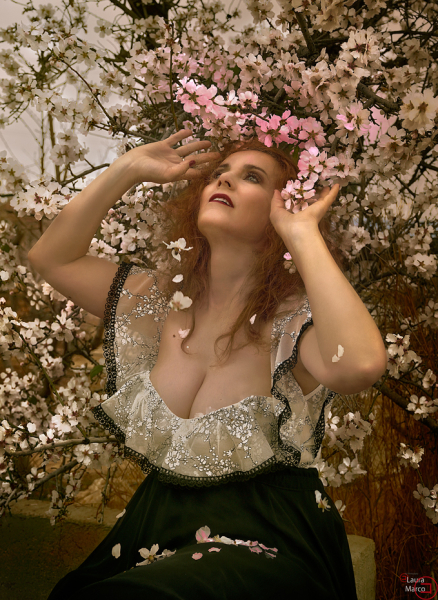 Image information
Description
What transient moments are! only comparable to fragility and short duration of flowers. Beautiful flowers, tight buds that in a very short time trigger their fleeting existence. Each moment and each thing, each place or each animal, each detail reminds us of transience of life. We are everything and suddenly we are nothing. In a very short time, we will only be a memory on paper, a thought that wanders in other minds.
Our words, the clothes that now shelter us will remain for a while after us... but it won't be too long. Everything is too interconnected so they can go unnoticed: the cycles of life. The flower cycle is too short to remind us that we are not eternal. If we don't stop to meditate on them, flowers will show us. Mysteriously, flowers fill the holy fields, they are very close to us by showing our transition to something different indeed.
Strangely, how easily flowers fall from branches! how petals are quickly deposited in hands, teaching us in a veiled way that it should be assumed and normal to follow our course calmly, in an acceptance of one's own life.
How many people do not realize the transience of our days, where the importance lies in a whirlwind of work or self-improvement, personal development as much as possible, lack of remembering the path of existence, a presence so fast and so fragile... circumstances make us live in oblivion of a false perenniality.
While those petals gave her their softness, accelerated her fall for her, embraced her, simply accompanying the course of her existence... she thought what would be next? perhaps a piece of written paper instead of her being? some earrings left in a drawer as being her? a closet full of her new converted old clothes?
An abandoned place of daily cycles, where day and night no longer matter. That would remain hers. She thought if she could communicate with those petals and ask them to tell her how the journey would be like, it was the same passage that she would take, but flowers were even more ephemeral.
At least, at that moment, they didn't feel alone. The inexplicable harmony of life made time run its course, without too much trauma or too much grief.
It was inexplicable so much beauty sprouting from those branches, tight beauty, in clusters worthy of gods. At that moment, in that place... she felt like a traveling companion of the flowers.
The beginning and end of it would be the same. Therefore, for a given moment in life, by a chance of fate, the woman and the flowers could share happiness.
Date
Sunday, 19 March 2023
Filesize
451.58 KB (438 x 600 px)
File size of the original image
753.91 KB (679 x 930 px)
Share this image in Forums (BBcode)
Include image :
Link image :
Comments for this image
There are no comments for this image yet.
Guests are not allowed to post comments. Please register...
Total images in all categories: 450
Total number of hits on all images: 2,221,953
Home
»
Artwork 2023
» Transience
WELCOME to my Facebook Page, hope you'll enjoy and participate! thank you!