Home
»
Artwork 2017
» Emotional Crack
Total images in all categories: 450
Total number of hits on all images: 2,222,899
Emotional Crack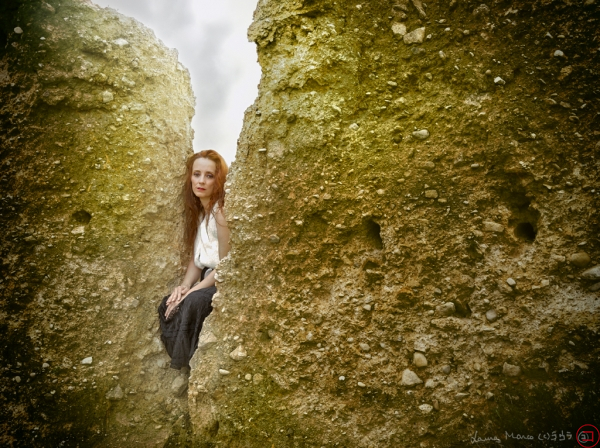 Image information
Description
The first feeling we have when contemplating the ruins of what once was a great fortress, is that of time, the power of the passage of time remains strongly engraved in our minds ... but not in the form of any longing, nor sadness, nor awe, not necessarily. Different feelings come over us by looking at weathered rocks, wearing away,  and inspecting cracks ... maybe it could be described as a taste of conquest, as being able to get what one wants, to think that there's nothing impossible, that everything sooner or later succumbs, falls inexorably; That one can break through the most stubborn spirits, the strongest ones, the most difficult situations, that one should never say to oneself any "no", or any "impossible." It's about fighting every day till the end, methodically.

There's not much left of what was an imposing defensive tower, which was part of a fortified complex, strategically located: "Castillo de los Peñascales" of Muslim period. At that moment, although crowned by a gray sky, but with overpowering views over the whole valley.
Seated in the crack, the first feeling of being a silent witness of how the most unshakable has fallen down, broken down ... is lost, is evaporated.
And a frightening idea makes its way through the thread of my thoughts, with fear ... I consider if finally, I will not be breaking myself.
If everything will not be a mirage that laughs at me, an overwhelming reflection of myself just broken.
The wear and tear of the daily struggle for what one wants, the battle continues, but ends all in an Emotional Crack perhaps ... within oneself. Do I fight against stubbornness, arrogance, the inevitable, the immovable, the unchangeable? ... Or am I opening cracks, only pain, breaking myself?
The doubt and the breadth of the struggle, understood in both directions, is overwhelming.
The doubt remains in suspense, within me.
Date
Wednesday, 12 April 2017
Filesize
308.29 KB (600 x 448 px)
File size of the original image
1,136.30 KB (1024 x 766 px)
Share this image in Forums (BBcode)
Include image :
Link image :
Comments for this image
There are no comments for this image yet.
Guests are not allowed to post comments. Please register...
Total images in all categories: 450
Total number of hits on all images: 2,222,899
Home
»
Artwork 2017
» Emotional Crack
WELCOME to my Facebook Page, hope you'll enjoy and participate! thank you!