Home
»
Artwork 2017
» Emptiness Will Go
Total images in all categories: 385
Total number of hits on all images: 1,840,774
Emptiness Will Go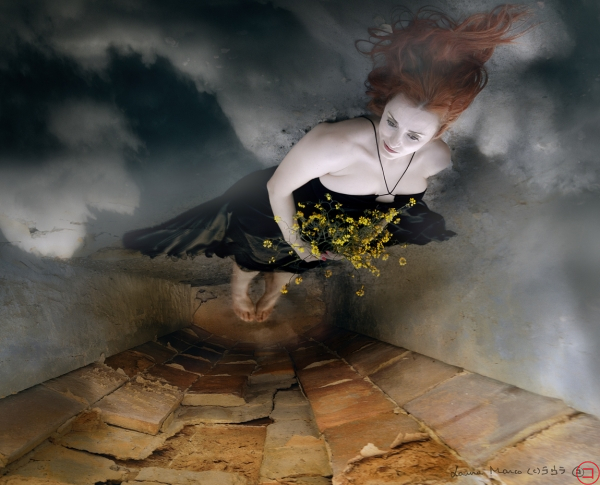 Image information
Description
"Is the grass greener elsewhere? Perhaps! Perhaps, if watered with tears from the storm" (Tony Hadley)
The scene was enclosed in the intimacy of that place. After all the outburst and with the coming of complete acceptance, everything has suddenly turned upside down. The mortar between the bricks rose up into small, capricious stalagmites, entangled forever among the bricks, which clung to each other and now lied down in defiance of all logic, perhaps were not they a narrow roof?
Everything has turned, everything has changed ... she was supposed to have remained in that inner darkness, but expectations were fulfilled: the one above now is the soul, not the little dome of stone. Only the numb feet remember that the body intended to be confined to that narrow place; Far from her desire, though the woman wasn't now in possession of her physical senses, her longing was to fly, to find amplitude and open space, something that equaled her desire to follow more and more. She was standing at the gate of her own trip. The wild flowers, the bouquet of yellow flowers was her only link with the earth, at first her reaction was to stand by it, not to lose everything known, soon the flowers will wither, but will not end her new life, nor her freedom. The inner does not need any mooring and doubtless, she began to heard whispers in an unknown tongue. The thought of her past life didn't urge her so. She could no longer feel weight in her body, nor the throat was swollen with thirst.
In that untraveled space, there was no smell of earth, everywhere it was a cool and wet breeze that kept her suspended, high, standing at the gate of her own liberty. In a moment the visible world seemed to wheel around, being her the pivotal point.
- "Who wants to lie down between the suffocating bricks, with so much open space to dream, such enchanting clouds?".
Maybe this is the vision we all want to keep, more life ... more open space to escape.
She stopped caring for the drops that seeped through the plaster, because at last ... it was not part of that material.
Emptiness will go ... in a moment. Emptiness will go... she had power only to feel and feeling was powerful.
The woman, the black dress, the straight walls on both sides terminating on her feet, on the end of the intimate dome, in a point like a diagram in a lesson in perspective.
Date
Thursday, 10 August 2017
Filesize
202.80 KB (600 x 485 px)
File size of the original image
793.70 KB (1150 x 930 px)
Share this image in Forums (BBcode)
Include image :
Link image :
Send to Friend
Please login first...
Total images in all categories: 385
Total number of hits on all images: 1,840,774
Home
»
Artwork 2017
» Emptiness Will Go
WELCOME to my Facebook Page, hope you'll enjoy and participate! thank you!