Home
»
Artwork 2017
» The Piano
Total images in all categories: 450
Total number of hits on all images: 2,222,909
The Piano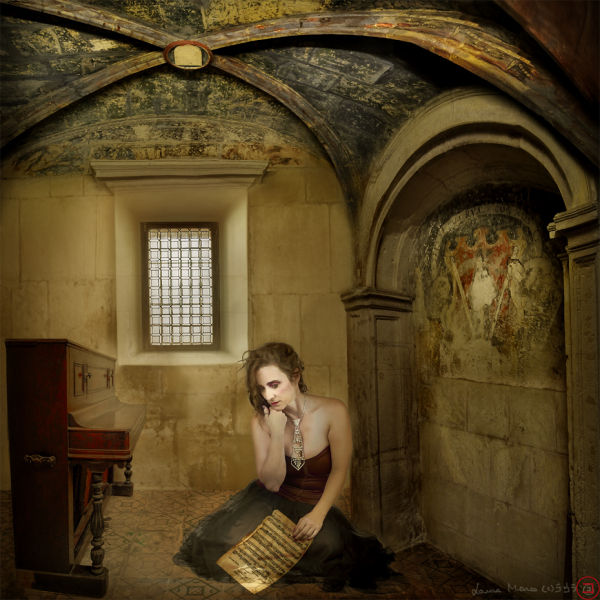 Image information
Description
In that lonely place painted in faint light colors, the woman was reclined, nearly inert, upon a dream. Sat on the floor, feeling comfortable inside, a proper temple for that garish decayed piano. As she rested there, she was awfully lazy and confused. At the end of that quiet day, she was going to play the musical score, though she hesitated for a moment and bowed her head in doubt. Was it all well with her?, there was something that withheld her desire to play. And yet again, there was something that was not in order. For long she pondered on the notes, maybe was not the piece of music she wanted. Neither would that music be herself.
Under the defiant gaze of the dragons in the diagonal ribs above her head, spitting fire from their mouths and teeth, doubt was beginning to gather strength; and while the great animals were fighting desperately, she waited quietly for the moment she would read along her own piece, the one that shows what her soul would be like, full of sounds and scents. Sweet odors of life, laden with mystery.
That one where each note, one by one would reflect a feeling, a passion and most likely would be composed for strings.
That soft light, in those quiet hours, the silence of the place, there her thoughts wondered sweetly, with a certain yearning wistfulness in her eyes, she had got the habit of silence, anyway...
So let her be waiting...
Date
Saturday, 30 December 2017
Filesize
449.09 KB (600 x 600 px)
File size of the original image
773.05 KB (930 x 930 px)
Share this image in Forums (BBcode)
Include image :
Link image :
Comments for this image
There are no comments for this image yet.
Guests are not allowed to post comments. Please register...
Total images in all categories: 450
Total number of hits on all images: 2,222,909
Home
»
Artwork 2017
» The Piano
WELCOME to my Facebook Page, hope you'll enjoy and participate! thank you!