Home
»
Artwork 2017
» The Answer of the Sea
Total images in all categories: 385
Total number of hits on all images: 1,840,740
The Answer of the Sea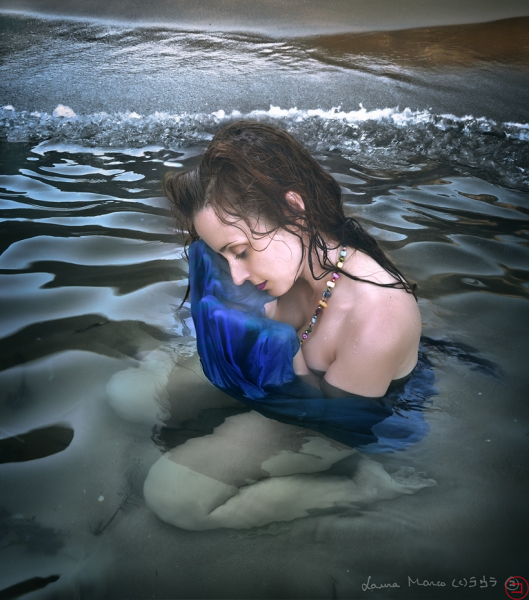 Image information
Description
She pondered a moment in sore perplexity, but once again she could read the answer, her head bent, on her hands: a whirling feeling of purity. As the sea always gives back an answer, she looked at it, anxiously... there were two hands covered with blue tissue, in a bluish haze, sealike, peaceful as her heart was. At that moment, a light broke upon her soul in her darkness and doubts, that have bewildered her, were solved by the answer in her hands.
So saying, the sea returns to the beach sand,  some algae ... an indispensable part of its own life, also everything we may have thrown, it brings them back: bad or good ... whatever, the sea will return.
Most of the time, she used to walk on the beach with a bag in hand, picking up small plastics or things that can dirt the charming shore, sort of home.
   -"When I find it clean, I find myself too. Almost nobody does it, does not anyone care?"-
"What you're throwing into the sea... it's being given you back".
The same as, "what you do to others, is what you get back later".
She remained there, feeling no shock while she was reading the answer and might have been divining the true reasons: nature speaks to beings, else words were not worth the thinking and then... she began to answer in her turn with respect. It was dusk and shadows have already begun to spread along the shore. It was time to return home. Though her relationship with the sea was but half begun.
Date
Monday, 31 July 2017
Filesize
237.81 KB (529 x 600 px)
File size of the original image
644.71 KB (820 x 930 px)
Share this image in Forums (BBcode)
Include image :
Link image :
Send to Friend
Please login first...
Total images in all categories: 385
Total number of hits on all images: 1,840,740
Home
»
Artwork 2017
» The Answer of the Sea
WELCOME to my Facebook Page, hope you'll enjoy and participate! thank you!