Home
»
Artwork 2017
» Leaved Heart
Total images in all categories: 385
Total number of hits on all images: 1,840,799
Leaved Heart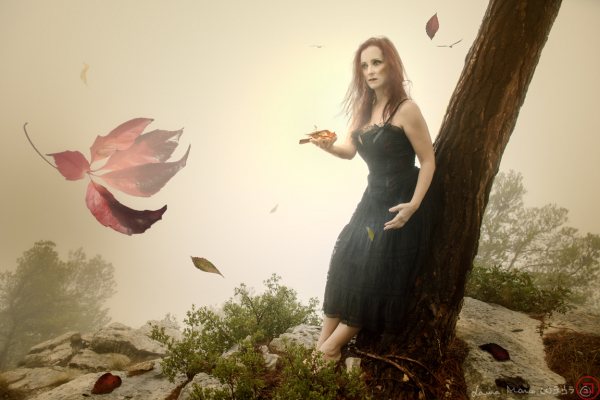 Image information
Description
There was the huge pine asleep and I, holding you with my bare fingers and hoping to feel the percussiveness of your heart again, that no longer was present there in that small body. - If it is no longer inside of you, somewhere it must be. If I can not do anything for you anymore, at least I want to be sure that you're still in the air, in this life ... you're still in the sky, with certainty I want to find you near me. -
- Your heart beats louder, your heart has become a beloved leaf. Leaved Heart, red as blood, full of life, you remain calm and at peace. -
In this afternoon of dull lights, of growing cold, the bird was dancing at last in this autumnal dance. Why did she love leaves, what was the meaning of her excitement when they moved randomly around her?. Symbols also of love and hope; instruments too of grief.
- The leaves dance, your heart dances. I kept you all the time in my hands, in a futile attempt to hold you close to me, now I know I was a little deranged, because you never did wanted to be by my side. -
The murmur of the pine's green boughs was in her ears and for long she pondered on the days together. At last, she realized that he was not hers, unbound bird, friend of the scenery, owner of his freedom.
- I just have to leave you comfortable on the floor, among the pine leaves, in a good shelter, where shall I take you and how?. -
The sunset sun was making a golden dazzle over the whole scene.
- I'm happy knowing that your heart of leaves, fly free into the air. More than anything, I want to be easy in my mind again. Our time isn't ours at all anymore!. -
Date
Saturday, 04 November 2017
Filesize
254.73 KB (600 x 400 px)
File size of the original image
581.50 KB (1152 x 768 px)
Share this image in Forums (BBcode)
Include image :
Link image :
Send to Friend
Please login first...
Total images in all categories: 385
Total number of hits on all images: 1,840,799
Home
»
Artwork 2017
» Leaved Heart
WELCOME to my Facebook Page, hope you'll enjoy and participate! thank you!