Home
»
Artwork 2017
» Firewood
Total images in all categories: 385
Total number of hits on all images: 1,840,766
Firewood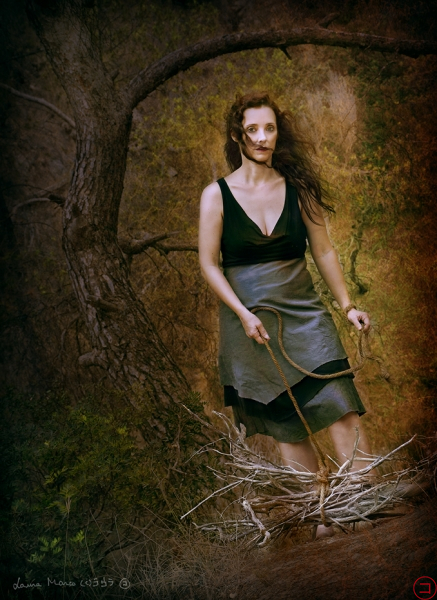 Image information
Description
Short, slow steps succeeded to each other without end ... Three steps, stopped ... the path is still in front of you, four ones more, faster and faster with your firewood.
That day at the top of that steep slope, you were the most wonderful appearance I've ever seen... frightened like an animal, you stood immobile ... not knowing whether to run or scream and I went to contemplate you. Now the steps do not follow, motionless, the pace of the walking began to be marked by your heart. The beats of your life, more agitated ... pum..pum..pum
I'd like to be as familiar to you as those old pine trees that have witnessed you walking every day, that scrub that knows your feet and their bright spider webs dancing to the rhythm of the wind in that, your place. Familiar as those little stones that may hurt you.
I do not have enough time to eternize this moment and still you make me doubt about myself, enough with few seconds, that equal a whole eternity. Your eyes hurt me, they pierce deep. I'd like to be that air that flutters your hair, those noises that are so well-known to your ears. Witnessing and at the same time, not witnessing. In such a delight to participate in you, in your "day to day". Quietly I have seen you many times with your eyes half-close, as you move your hands and you're trying to do everything. Now you're scared!. Standing still in the unholy depths of some furnished fear in your mind. Skimming the rope, you're not feeling in the least lonely.
At the top of that steep slope, I feel your heart, which questions, questions ... -"who are you?, what do you want of me?"-, -"I am that sun that embraces you every day, that firewood that heats your home, as a part of you. I want to accompany you on your way."-
The woman was resting, the afternoon was falling, everything around her was peaceful and beautiful and well-known and without really knowing what had made her stop there, suddenly all had happened in a bit fool and tainted air, what a strange sensation had run through her body!, now she was hurrying homeward, yearning to be at that very moment on the hearth. The woman has to get back before darkness came, couldn't delay and went home allowing these thoughts to run softshod through her mind.
Date
Tuesday, 19 September 2017
Filesize
245.21 KB (437 x 600 px)
File size of the original image
743.63 KB (678 x 930 px)
Share this image in Forums (BBcode)
Include image :
Link image :
Send to Friend
Please login first...
Total images in all categories: 385
Total number of hits on all images: 1,840,766
Home
»
Artwork 2017
» Firewood
WELCOME to my Facebook Page, hope you'll enjoy and participate! thank you!